Crossrail may be delayed further and could require a £2 billion funding boost, Transport for London (TfL) has said.
There is a "huge amount still to do", according to Crossrail Ltd chief executive Mark Wild.
TfL said "more work is required than had been envisaged" when a revised opening date of autumn 2019 was given in August.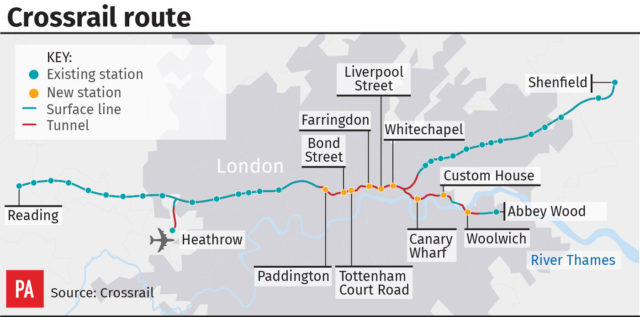 (PA Graphics)
An independent report by auditor KPMG found the impact of the delay announced in the summer "could be in the region of between £1.6 billion and £2 billion".
Crossrail's cost is being met by Government, the Greater London Authority (GLA) and London businesses.
A new financial package has been agreed for the GLA to borrow up to £1.3 billion from the Department for Transport (DfT).
There is also a "contingency agreement" involving a loan from the DfT of up to £750 million should the final cost reach the upper estimate.
Mr Wild said: "Since I joined Crossrail Ltd in November I have been reviewing the work still required to complete the core stations and rail infrastructure and begin the critical safety testing.
"It is evident that there is a huge amount still to do. Stations are in varying stages of completion and we need time to test the complex railway systems.
"This means that I cannot at this stage commit to an autumn 2019 opening date.
"My team and I are working to establish a robust and deliverable schedule in order to give Londoners a credible plan to open the railway and provide a safe and reliable service.
"Once that work is completed we will then be in a position to confirm a new opening date."
Once opened, Crossrail will run from Reading and Heathrow in the west to Shenfield and Abbey Wood in the east, via 13 miles of new tunnels in central London.
Mayor of London Sadiq Khan said: "I haven't hidden my anger and frustration about the Crossrail project being delayed.
"This has a knock-on consequence of significant additional cost to the project.
"It has been increasingly clear that the previous Crossrail Ltd leadership painted a far too optimistic picture of the project's status."
Elizabeth line services through the central tunnels were due to begin this month, but this was pushed back to autumn.
The increasing costs and delayed opening led to the resignation of Sir Terry Morgan from his positions as chairman at Crossrail Ltd and HS2 Ltd last week.
Mr Khan has been summoned to appear at a hearing of the London Assembly Transport Committee next week to explain what he knew and when about the delay.
The mayor says he only found out the opening would not take place this month on August 29, two days before the decision was made public.
Sir Terry insists Mr Khan was aware of the problems at least a month beforehand.
Mr Khan has ordered the release of minutes from Crossrail Ltd board meetings in the past five years to provide "transparency to Londoners".
His office claims they are a "serious indictment of Crossrail Ltd's failed governance" and show Mr Khan and TfL were not informed the central section of the project would "definitely be delayed" until August 29.
Crossrail's issues are also heaping further pressure on TfL's finances.
The transport authority already has a £1 billion operating deficit for this year amid falling passenger numbers, Mr Khan's freeze on single fares and the axing of a £700 million annual government grant.
It had expected to receive £146 million of fare revenue from the Elizabeth line in 2018-19 alone.