A drawing by a nine-year-old girl of a "welcoming" front door has been chosen as the Christmas cover for the Big Issue magazine.
The colourful drawing, showing a mat saying Welcome Home, and the word "less" crossed out, was designed by Lucy Norris from Ware in Hertfordshire.
It was chosen as the winner from more than 1,000 entries for the annual festive competition.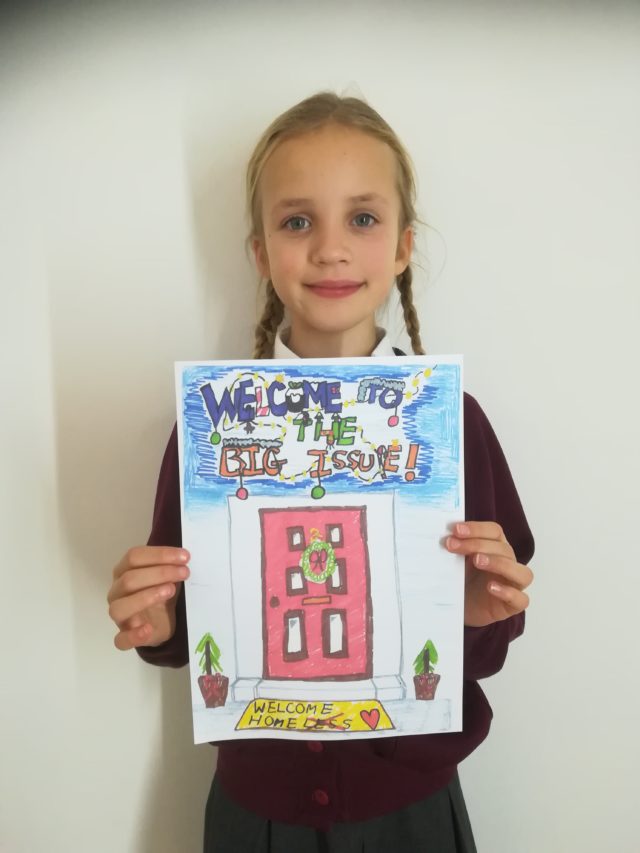 Big Issue editor Paul McNamee said: "We asked that entries touched on the theme of welcome, wherever that took the entries – and it brought us right to the door of nine-year-old Lucy Ware.
"A bright door that offers simple relief, where the homeless are welcome. It's an idea that makes the heart sing."
Lucy said: "When mum told me the theme was welcome I thought about the message 'welcome home'. I wasn't sure how to make it Christmassy, so I looked through old Christmas cards and saw the front door with a wreath hanging on it.
"I'd like to put across the message that nobody should be homeless, but especially not at Christmas time, which is meant to be a happy time. That's why I crossed out the 'less' – because everyone should be able to feel like they have a home."
The latest edition of the magazine, sold to help vendors lift themselves out of poverty, is available from Monday.