Drinks tycoon Vijay Mallya can be extradited to India to face allegations of fraud, a UK judge has ruled.
Mallya, chairman of the UB Group, is wanted in his home country over debts incurred by his now-defunct Kingfisher Airline.
The 62-year-old, who built his fortune in the drinks industry, denies any wrongdoing and has been fighting to remain in Britain.
But Senior District Judge Emma Arbuthnot said that there was a case to be answered in her judgment handed down at Westminster Magistrates' Court on Monday.
She said she would be referring Mr Mallya's case to the Home Secretary for a decision on whether to order his extradition.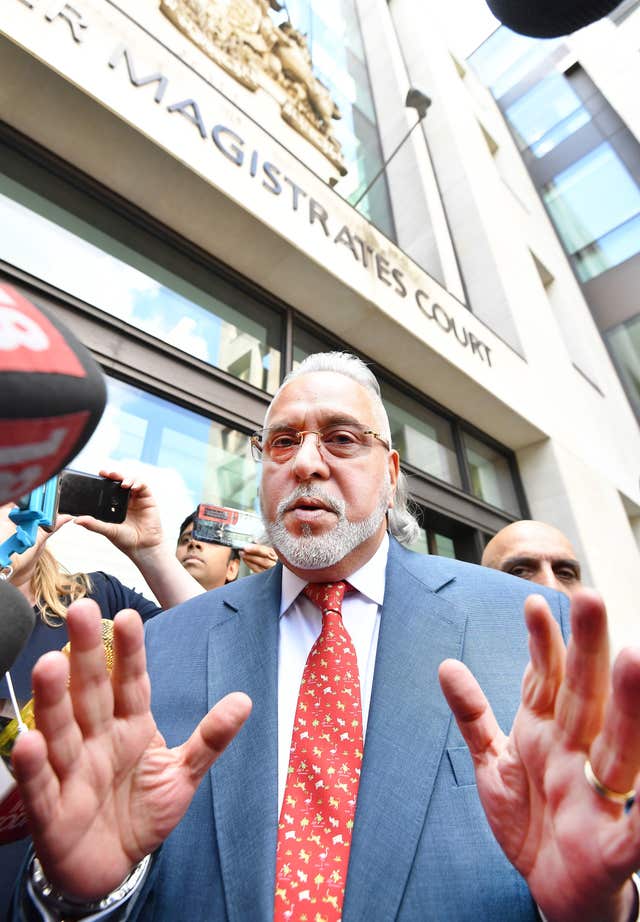 She said bankers had been "charmed" by a "glamorous, flashy, famous, bejewelled, bodyguarded, ostensibly billionaire playboy" into losing their common sense.
Mallya is alleged to have knowingly misled largely state-owned banks about the fortunes of the failing airline, before laundering the cash to fund his Formula 1 motor racing team and other projects.
India's Enforcement Directorate has been investigating the tycoon's debts, totalling £977 million, linked to the airline.
A lawyer for Mr Mallya previously argued that the fraud allegations were "politically motivated" and fitted a pattern of corruption charges surfacing in Indian election years.
The Central Bank of India opened a criminal investigation into Mr Mallya in 2015.
Mr Mallya was arrested in April last year by the Metropolitan Police's extradition unit on behalf of authorities in India.
He had entered the UK on a valid passport in March 2016.
Mr Mallya appeared in court dressed in a pin-stripe suit with a red tie, barely reacted as the judge delivered her ruling.
He was once hailed as India's version of British entrepreneur Sir Richard Branson for his investments in the airline, a Formula 1 team and Indian Premier League cricket club.
Speaking to a scrum of reporters outside court, Mr Mallya said the judge's ruling was "unfortunate" but declined to comment on whether he would be launching an appeal.
"My legal team will be reviewing the judgment in detail and determining the next steps forward," he said.