Theresa May's leadership is under intense pressure as MPs return to Westminster ahead of Tuesday's Brexit showdown.
The Prime Minister's political future appears uncertain if she loses – but her credibility would also suffer a serious blow if she attempts to postpone the Commons vote.
Downing Street insisted the vote would go ahead as planned on Tuesday and Brexit Secretary Stephen Barclay said it was "100% happening".
But rumours continued to swirl at Westminster that Mrs May could decide at the 11th hour to avoid a potentially heavy defeat if Tory whips cannot limit the revolt over her Brexit deal and the controversial Irish backstop arrangement.
Debate on the plan will resume in the Commons on Monday, and Mrs May was warned not to give MPs the impression she lacks "appetite for the fight".
Calls to European Council president Donald Tusk and Taoiseach Leo Varadkar on Sunday prompted speculation that efforts to find a way of reassuring backbenchers over the backstop – contingency measures aimed at preventing a hard border on the island of Ireland – were ongoing.
Mr Tusk said: "It will  be an important week for the fate of Brexit."
The Irish government said that in the call with Mr Varadkar the two leaders "discussed the current situation on Brexit, including the planned vote in Westminster on Tuesday".
Downing Street did not publicise either call but insisted the conversation with Mr Tusk was a routine discussion ahead of Thursday's summit of EU leaders in Brussels.
Northern Ireland Secretary Karen Bradley issued a plea to move on from the bitter Brexit rows, highlighting the benefits of the peace process as an example of what happens when "division can be overcome".
"When the dust settles on Brexit, we must move forward in order that we can put some of the division about the nature of our country's relationship with the European Union behind us," she wrote in the Guardian.
"Northern Ireland, in particular, knows the damage that division can do, and the benefits when that division can be overcome."
But the splits in the Tory ranks appeared even deeper after three former ministers publicly failed to rule out leadership bids and serving members of Mrs May's Cabinet appeared to be jockeying for position to replace her.
Asked to give an "absolute, categorical promise" that he would not stand against the Prime Minister, Mr Johnson told the BBC's Andrew Marr Show: "I will give you an absolute, categorical promise that I will continue to advocate what I think is the most sensible plan."
Ex-work and pensions secretary Esther McVey said she would seriously consider a run for the leadership if asked by colleagues to stand, while former Brexit secretary Dominic Raab refused to rule out his own bid for the top job.
The sense of crisis has heightened expectations that the 48 letters required to trigger a confidence vote could be submitted to the Tory backbench 1922 Committee this week.
An unnamed former Cabinet minister told The Times: "I would be astonished if we don't get to 48 this week."
The newspaper reported that Home Secretary Sajid Javid and Foreign Secretary Jeremy Hunt are sounding out possible supporters.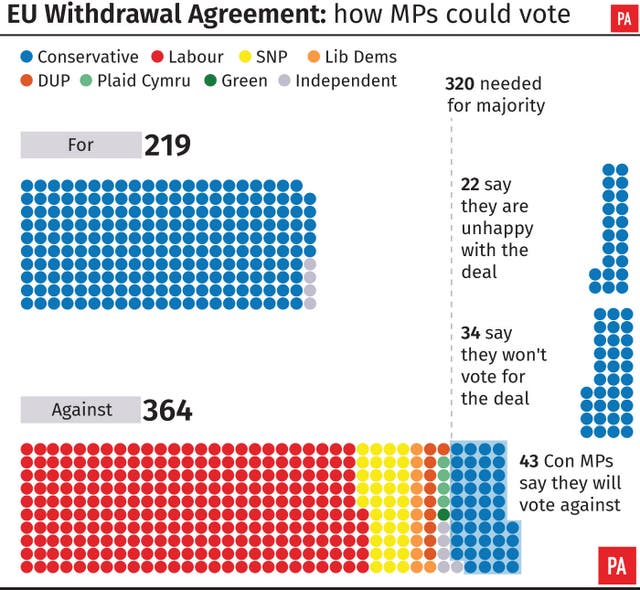 The Daily Telegraph reported that Chief Whip Julian Smith was now among ministers urging Mrs May to postpone the vote – he had previously admitted he faced an "uphill challenge" to win round potential rebels.
But Tory MP Johnny Mercer, a former soldier, told BBC Radio 4's Westminster Hour: "It would be pretty disheartening to see the Government pull this vote on Tuesday because it indicates a lack of appetite for the fight that is needed to gain respect in these situations."
Labour leader Jeremy Corbyn told ITV News that pulling the vote would be a sign of "absolute desperation" by Mrs May.
Labour will discuss how to respond to a defeat for Mrs May with other opposition parties at Westminster.
One option said to be under consideration would be a motion of no confidence in Mrs May personally – something that is thought to be more likely to gain support from Conservative rebels than a motion of no confidence in the government which could bring down the Tory administration.