Nicola Sturgeon has announced plans to set up a taskforce as the first step in introducing a new statutory human rights framework across Scotland.
Creating the framework through a new law at Holyrood is one of the key recommendations made by the First Minister's Advisory Group in Human Rights Leadership in its final report.
The group, set up to ensure Brexit does not lead to an erosion of human rights in Scotland, wants the new law to include rights already provided by the Human Rights Act and additional economic, social and cultural rights from United Nations treaties.
A further six recommendations include a public participatory process as part of creating the new legislation, a Scottish Government national mechanism for monitoring, reporting and implementation of human rights, developing human rights indicators for the national performance framework and setting up the taskforce.
The group also recommends developing a written constitution including a bill of Rights for Scotland in the event of Scottish independence.
Speaking on Human Rights Day, Ms Sturgeon said: "I set up the advisory group to offer advice on how we can further enhance human rights as I wanted to ensure Brexit does not harm human rights in Scotland and that we remain in step with future advances in EU human rights.
"I also asked for recommendations to ensure Scotland is an international leader in respecting and enhancing human rights.
"I share the ambition in this report that Scotland should introduce a human rights statutory framework and I support their recommendation that this should be done through public engagement, working across the public sector, civic society and parliament.
"As a first step, I will establish a national taskforce, early in 2019, to progress these plans."
Group chairman Professor Alan Miller said: "There is an urgent need of human rights leadership in today's world, so we were delighted that the First Minister asked us for recommendations on how Scotland can lead by example.
"The leadership steps that Scotland needs to take are clear.
"The internationally recognised human rights belong to everyone in Scotland and must be put into our law.
"As, importantly, they must then be put into everyday practice. In this way people are empowered to lead lives of human dignity, to have a sense of self-worth."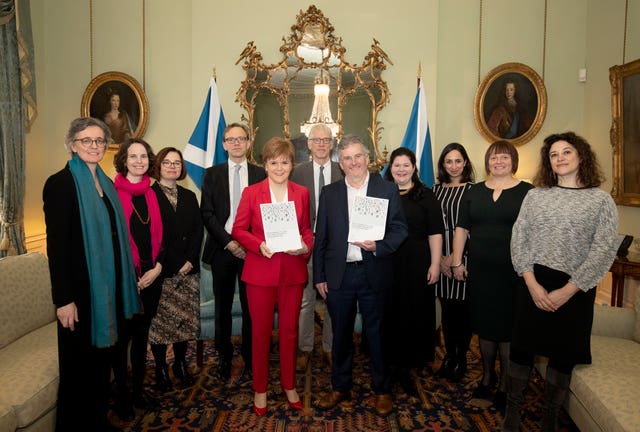 She said: "Seventy years since universal human rights were first enshrined internationally, a persistent gap remains between well-intentioned laws and policies, and the reality for people's rights in their everyday lives.
"These significant and bold recommendations, if taken forward by the Scottish Government, have real potential to close that gap."
She said the proposed new Holyrood legislation would "strengthen existing protections for human rights and lead to a full compliance duty on public authorities and, where relevant, private institutions".
Ms Sturgeon explained that the Scottish Government would formally respond to the report following its release but said: "I do want to confirm immediately that I endorse the report's overall vision of a new human rights framework for Scotland with a new act of Parliament at its very heart."
John Wilkes, Equality and Human Rights Commission (EHRC) head of Scotland, said: "This is a really welcome development. If this is taken forward it will place Scotland at the front of other UK countries in developing a progressive, rights-based society. We support the full incorporation of human rights treaties into Scots law.
"This proposed Act of Parliament will for the first time clearly set out the roles and responsibilities of the Scottish state in relation to a wide range of rights and social issues such as children's, women's and disabled people's rights.
"Importantly, it will give citizens a clearer mechanism for resolving problems where individual rights conflict".