Prime Minister Theresa May is to travel to Europe to seek concessions on her Brexit deal, after calling off a crunch House of Commons vote in which she was expected to go down to a heavy defeat.
In a statement to MPs, Mrs May also said the Government was stepping up preparations for a possible no-deal Brexit.
If the answer was yes, she said that they needed to consider whether they were prepared to make "compromises" in order to make good on the 2016 referendum vote to leave the EU.
Mrs May's statement came amid dramatic scenes at Westminster, as news of her plan to postpone Tuesday's "meaningful vote" broke just minutes after Downing Street had insisted it was going ahead.
It is understood that the PM had been warned that she faced a large-scale defeat when MPs voted at the end of five days of debate in the Commons on her plans.
She spoke with her Cabinet colleagues by a telephone conference call before addressing the Commons.
Speaking to MPs, Mrs May accepted that there was "widespread and deep concern" over the backstop arrangement, designed to keep the Irish border open if the EU and UK fail to strike a wider trade deal.
If the vote had gone ahead as planned, the Government would have been defeated by a "significant margin", she said.
"We will therefore defer the vote scheduled for tomorrow and not proceed to divide the House at this time."
Mrs May said she believed there was "a majority to be won" in the Commons on her deal, if she is able to "secure additional reassurance" on the backstop, and that this would be her focus over the coming days.
But she insisted: "There is no deal available that does not include the backstop."
Mrs May said she had spoken by phone with European leaders over the weekend and will meet others, as well as the chiefs of the European Council and Commission, before the EU summit opens in Brussels on Thursday.
"I will discuss with them the clear concerns that this House has expressed," she said.
The Government was also looking at "new ways of empowering the House of Commons" to ensure that any provision for a backstop has "democratic legitimacy and to enable the House to place its own obligations on the Government to ensure that the backstop cannot be in place indefinitely", said Mrs May.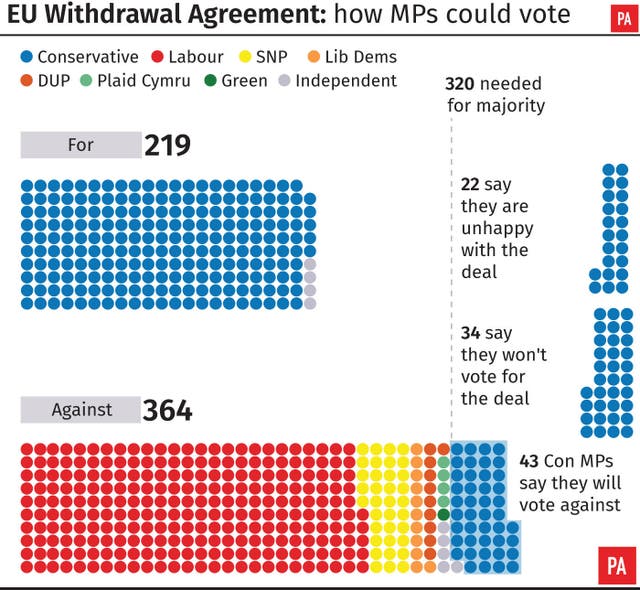 "Does this House want to deliver Brexit? And if it does, does it want to do so through reaching an agreement with the EU?
"If the answer is yes, and I believe that is the answer of the majority of this House, then we all have to ask ourselves whether we are prepared to make a compromise.
"Because there will be no enduring and successful Brexit without some compromise on both sides of the debate."
A spokeswoman for European Commission president Jean-Claude Juncker poured cold water on hopes of a renegotiation of the Withdrawal Agreement, reached after more than 18 months of talks.
In a press briefing in Brussels, Mina Andreeva said: "As President Juncker said, this deal is the best and only deal possible.
"We will not renegotiate – our position has therefore not changed and as far as we are concerned the United Kingdom is leaving the European Union on March 29  2019."
Irish Prime Minister Leo Varadkar ruled out reopening negotiations around the backstop, which is designed to keep the Irish border open following Brexit.
The Taoiseach said it was not possible to reopen any aspect of the Withdrawal Agreement without reopening all aspects of it.
Ahead of her statement, Mrs May spoke by phone to Arlene Foster, leader of the Democratic Unionist Party, whose MPs prop up the minority Conservative administration but were threatening to vote against her deal.
Mrs Foster said: "My message was clear. The backstop must go. Too much time has been wasted. Need a better deal. Disappointed it has taken so long for Prime Minister to listen."
And she spoke to Scottish First Minister Nicola Sturgeon, who said she told the PM that "delaying the vote is an abdication of responsibility, leading to even greater chaos".
The Scottish National Party leader and Liberal Democrat leader Sir Vince Cable both urged Jeremy Corbyn to call a vote of no confidence in the Prime Minister, which they said their parties would support.
Both Ms Sturgeon and Sir Vince said they would press for a second referendum in order to allow voters to pass judgment on whether they still want Britain to leave the EU.
Shouts of "resign" were heard from the Labour benches as Theresa May concluded her statement.
Mr Corbyn said: "The Government has lost control of events and is in complete disarray."
He urged Mrs May to be clear over whether she is seeking changes to the deal or "mere reassurances" and asked if she was "ready to drop further red lines in order to make progress".
Bringing back a "botched" amendment to her deal next week or in January would not deal with its "fundamental flaws", he said.
"This is a bad deal for Britain, a bad deal for our economy and a bad deal for our democracy. Our country deserves better than this," said Mr Corbyn.
The dramatic developments occurred as the European Court of Justice  ruled that Britain can unilaterally halt the Brexit process by revoking the Article 50 letter declaring its intention to leave the EU.