The enduring ties and friendships created following the Lockerbie bombing have left a legacy of hope for the future, Nicola Sturgeon has said.
The First Minister was speaking in the Scottish Parliament ahead of the 30th anniversary of the tragedy on December 21, 1988, in which 270 people from 21 nations died.
The Solicitor General for Scotland, Alison Di Rollo, will attend events in the United States on Friday, whilst Lord Advocate James Wolffe will represent the Scottish Government at a memorial service in Lockerbie.
Speaking at Holyrood on Thursday, Ms Sturgeon said MSPs will reflect on all those who lost loved ones in the incident, as well as the residents of Lockerbie.
"An almost unimaginable tragedy brought out incredible reserves of solidarity, compassion and love," she said.
"The bereaved showed immense dignity and resilience. People in Lockerbie and the surrounding area opened their hearts to those who had lost loved ones.
"Enduring ties and friendships have been created. Syracuse University, which lost 35 of its students in the bombing, now accepts two scholarship pupils every year from Lockerbie Academy.
"That is a powerful example of the way in which people have worked to remember the past, in a way which also builds hope for the future.
"That hope is also now part of the legacy of Lockerbie. And that is perhaps something to hold in our hearts tomorrow as we look back on the tragedy, as we think about all those who lost loved ones and as we remember and honour all those who died."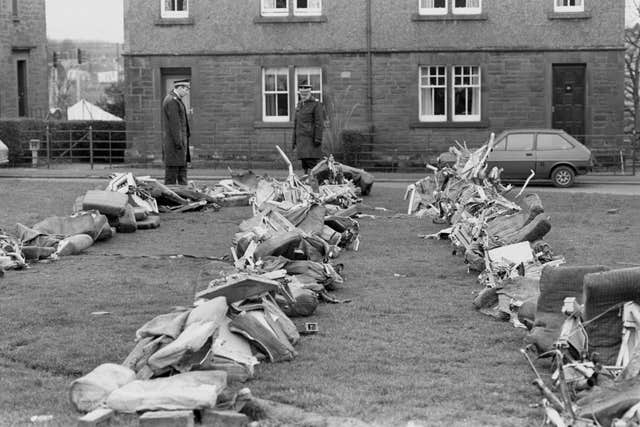 "I associate myself entirely with the remarks the First Minister has made and the remarks that the Prime Minister made yesterday," said Mr Carlaw.
"As I was preparing for Christmas that year, so were the Somerville family. Jack Somerville had been the retail vehicle sales manager in our family business for some 20 years before he retired.
"I remember him with great affection – yes, he had a sheepskin coat like all the best used car sales managers. He was fond of a cigar, he was a big personality.
"He and his family were in the house in which the plane landed and were obliterated.
"I know I, and many of his former colleagues, along with all those who lost relatives and friends think fondly of them each year when this anniversary comes around."
Abdelbaset al-Megrahi was jailed for 27 years in 2001 over the bombing.
But he was freed from Greenock prison in 2009 on compassionate grounds after being diagnosed with terminal prostate cancer, and he died three years later in Libya.
The decision was controversial but Megrahi was only expected to live for around three months after being released.
Then US president Barack Obama branded the decision to release him "a mistake" and some US victims' families reacted angrily.
Writing in The Scotsman on Thursday, then Scottish justice secretary Kenny MacAskill maintained that freeing Megrahi was "the right thing to do".
He said: "It's a decision I stand by to this day and whilst some disagree, with it few can fault the procedure.
"Indeed, information that has come to light since has simply confirmed my view.
"Questions remain over the conviction of Megrahi but whilst I've never believed him to be the bomber, he most certainly was no innocent abroad.
"He was the highest-ranking official Libya would release and the lowest one the West would accept.
"But the UK and USA know the full story, even if a court never will, having their spies and even getting their sources out.
"Sadly, that's why the conspiracy theories will run forever, with me now part of them."