Labour leader Jeremy Corbyn has promised to put power "in the hands of workers" under plans for a big expansion of employment rights.
He announced that a Labour government would establish a Ministry for Employment Rights, saying it would herald the biggest extension of rights for workers ever seen in the UK.
The aim is to deliver better wages, greater security and give workers more of a say over how their workplaces are run, he told the TUC Congress in Brighton.
Labour was on the side of the people against the "born-to-rule establishment" represented by Prime Minister Boris Johnson, he told delegates.
He pledged to stand up for the interests of the many, "the overwhelming majority who do the work and pay their taxes – not the few at the top who hoard the wealth and dodge their taxes".
Mr Corbyn said a Labour government would transform people's lives, starting in the workplace.
Labour would also appoint a Secretary of State for Employment Rights, and a Workers' Protection Agency to enforce rights, standards and protections so that every job is a "good job".
Workers would also be offered security, dignity, fair pay and rights in the workplace under minimum standards set through collective bargaining, said the Labour leader.
He also repeated Labour's pledge to repeal the 2016 Trade Union Act, and announced that unions will have the right to organise members in workplaces as well as having extra protection for union representatives facing unfair dismissal.
Labour would introduce a statutory Real Living Wage of £10 an hour by 2020 for all workers aged 16 or over, ban unpaid internships and end zero hours contracts by requiring employers to give all workers a contract that accurately reflects their fixed and regular hours.
"For 40 years, the share of the cake going to workers has been getting smaller and smaller. It's no coincidence that the same period has seen a sustained attack on the organisations that represent workers – trade unions.
"We have witnessed a deliberate, decades-long transfer of power away from working people. The consequences are stark for all workers, whether members of a trade union or not. Pay is lower than it was a decade ago in real terms.
"Labour is on the side of the people in the real battle against the born-to-rule establishment that (Boris) Johnson represents. We stand for the interests of the many – the overwhelming majority who do the work and pay their taxes – not the few at the top who hoard the wealth and dodge their taxes.
"It's Labour's historic mission to transform people's lives, and that transformation begins in the workplace.
"Rights only mean anything if they're enforced. Too many employers are getting away with flouting laws. Nearly half a million people are still being paid less than the minimum wage.
"We'll put a stop to that. We'll create a Workers Protection Agency with the power to enter workplaces and bring prosecutions on workers' behalf.
"If you're a worker with a boss who makes you work extra hours for no pay or forces you into dangerous situations, you deserve a government that's on your side and ready to step in to support you."
Mr Corbyn received several standing ovations from delegates during his speech and union leaders warmly welcomed his pledge to boost workers' rights.
Unison general secretary Dave Prentis said: "These reforms promise a sea change in the workplace, one that's long overdue.
"It's become far too easy for unscrupulous bosses to treat their staff unfairly, safe in the knowledge their bad behaviour will never be challenged in the courts."
Mick Whelan, general secretary of the train drivers' union Aslef, said: "This proposed legislation is long overdue and, by creating a better world of work and safety, will act as a driver for the economy and give strength to building a bright future."
TUC president Mark Serwotka said: "Jeremy Corbyn once again showed why we need a prime minister that will transform the economy in favour of working people and deal with Brexit.
"His commitment to ending zero hours' contracts, repealing the draconian Trade Union Act and rolling out mandatory collective bargaining in huge sections of the workforce is the tonic to Tory austerity that the country needs.
"Boris Johnson is the establishment Prime Minister pretending that he represents the people. Whereas Jeremy Corbyn with a socialist manifesto and a radical vision, is the real candidate of the people, regardless of how they voted in the referendum."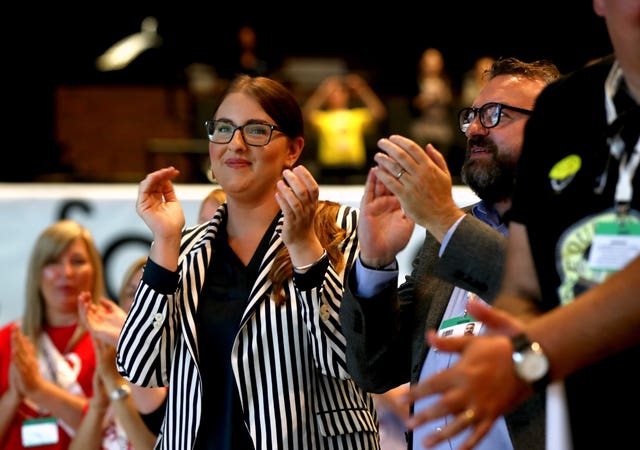 She said: "I realise that this concept may be familiar to people in this room, but people outside of this room may be wondering what on earth I'm talking about, and I don't blame them. Because the percentage of workers covered by collective agreements has dwindled rapidly over the last 40 years.
"Our Labour government will re-establish national collective bargaining between trade unions and employers in each sector of our economy. That was the British way for most of the 20th century and it still is the way that the successful economies of northern Europe manage their industrial relations.
"Sector-wide collective bargaining will set minimum and legally binding pay, terms and conditions for every employer and every worker in the sector.
"In practice, it means that rather than the employer having all the power to determine what your conditions and pay are at work, they will be legally obliged to enter into negotiation with your trade union – a giant step forward in rebalancing the unequal power relations that exist between worker and employer.
"Imagine the transformative impact that would have on, say, the care sector, where the mostly female workforce has seen this highly skilled and professional area of work become a minimum wage job, where care workers are not paid for travel time between visits and can end up working 10 hours for five hours' pay."
Josh Hardie, the CBI's deputy director general, said: "These proposals, made in isolation from business, look set to turn back the clock decades.
"They fail to reflect the reality in workplaces around the country. The vast majority of firms thrive on strong employee engagement, invest in training and prioritise wellbeing. They support jobs, sustainable wage rises and enforcement of employment law. A fundamental rewrite of regulation is the last thing the economy needs right now.
"Signalling widespread renationalisation wilfully ignores the many strengths that firms bring to the delivery of high-quality public services, including vital investment and innovation.
"At a time when the UK is already on the watchlist for international investors, these proposals will do further harm to our economy.
"We ask Labour to rethink and engage with business to restore confidence, or risk harming the very people they are seeking to help."