Thousands of people have turned out in Porthcawl in Wales for the traditional Christmas Swim, one of many being held around the UK.
More than 1,300 people took to the waves, with about 5,000 spectators cheering them on for the 55th annual event.
In London, the Serpentine Swimming Club hosted its annual Christmas morning race for the Peter Pan cup. The race, which takes place in Hyde Park, has been held every year since 1864.
At 11.45am, coastguards signalled the start of the Porthcawl swim and a path was cleared through spectators down the beach.
Many of the swimmers were in fancy dress for the event, which had the theme A Trip Down Memory Lane to link with the headline charity, Alzheimer's Society Cymru.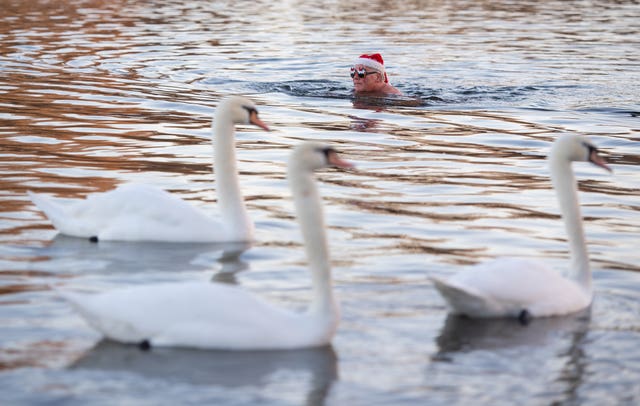 Lucy Jones, secretary of the Porthcawl Christmas Swim, said: "We are delighted with the fantastic turnout.
"The swim is a great family event with many different generations of the same family taking part. The atmosphere all around the swimmers is very special and hard to explain.
"I look forward each year to meeting old friends, many who I only see perhaps at the swim, and we exchange Christmas greetings, sometimes up to our waist in the sea."
Dave King, chairman of the swim, said: "Once again we have been grateful to all who supported our swim and the number of people who turned up was fantastic.
"Collections are made during the swim and we hope the bucket collections and swimmers' sponsorship will help us to make some generous donations in the New Year.
"We also received a fantastically generous donation of £1,000 from a gentleman dressed as Del Boy.
"Our main beneficiary this year is Alzheimer's Society Cymru and we will also help many other local charities and organisations."