Sinn Fein's Donnchadh O Laoghaire became the first elected TD in Ireland after outpolling both the Fianna Fail leader and the Tanaiste.
Mr O Laoghaire, 31, stood with his wife Eimear and their two young children during the declaration as it was confirmed he had topped the Cork South Central poll with 14,057 votes.
He was the only TD elected in the constituency on the first count despite expecting to be left fighting for the fourth and final seat in the constituency.
Micheal Martin was elected on the sixth stage of the count, while Simon Coveney and Mr Martin's running mate Michael McGrath faced a longer wait to be returned to the 33rd Dail.
Mr Martin allowed himself a smile and a nod as he was declared elected just before 10pm on Sunday surrounded by family and cheering supporters, giving reporters the thumbs up.
He insisted his party had performed well in Cork South Central, looking likely to see their two candidates returned as TDs.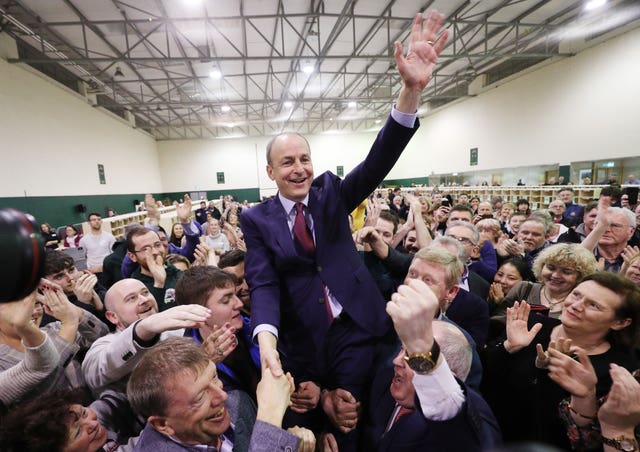 "I want to thank the people of Cork South Central because it is always a great privilege when people put so much trust in you and so many people vote for you.
"I appreciate that, I respect that, I don't take it for granted and I pledge to work extremely hard on behalf of the people of Cork South Central."
Earlier Mr O Laoghaire and his wife celebrated with a kiss before he was hoisted aloft by cheering supporters.
"I'm delighted, absolutely delighted, it's a huge mandate that we've got," he said.
"We haven't expect this kind of vote but when you see this is replicated across the state there is an enormous appetite for change."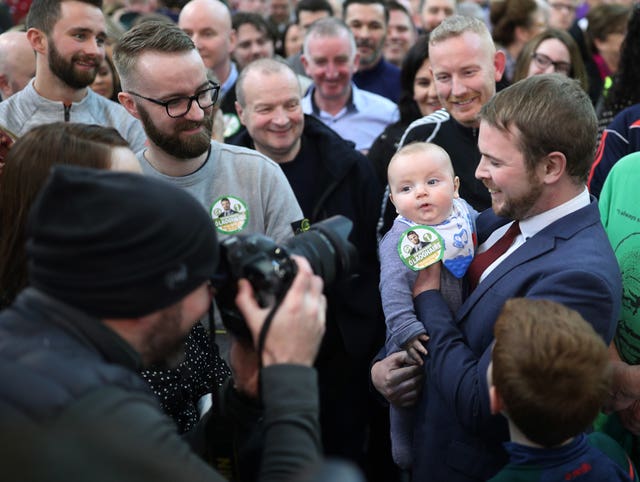 "It's a very competitive constituency, there are some very very big political names in it, and I think it is a significant statement in Cork obviously but across the board that we have managed to register this kind of vote in a constituency that has the Tanaiste, the leader of Fianna Fail and the Fianna Fail finance spokesperson," he said.