During the coronavirus pandemic, there is a good chance your daily gym schedule may have dwindled to a couple of walks to the fridge and a bit of fresh air at lunchtime.
But while we are all spending extra time at home, why not utilise this time to put down the remote and test your fitness with a daily challenge?
With the right attitude, lockdown can double up as your own personal fitness boot camp, helping you set new PBs and keep on track for when you are able to take on the next big outdoor challenge.
Be it cardio, strength training, weightlifting, yoga or meditation, whatever form of exercise you are into, there is a physical feat for every kind of fitness fan.
1. 30-day squat challenge
If your goal is to tone up your glutes, a month-long squat challenge is one of the best ways to build muscle and blast fat from the area – plus, it is a killer calorie burn.
2. 30-day split challenge
Ever watched a yoga video on YouTube and wished you were able to glide into the front splits with the same easy gracefulness? Now is your time to learn the ultimate party trick while you can.
The 30-day split challenge involves deeply stretching your hip flexors and hamstrings every morning, so you can gradually decrease the space between you inner thighs and floor.
There are lots of different 30-day stretching tutorial videos online to choose from, based on your flexibility level, plus you can find progress diaries from other users to help keep you motivated.
3. Couch to 5K
4. 30 days of yoga
Yoga is one of those practices that requires loads of patience, and the only way to get better at it is to be consistent.
Yoga With Adriene's 30 Days Of Yoga Challenge (yogawithadriene.com) is a series of daily YouTube videos that will help you work on your strength, flexibility and breath, gradually improving your practice over the month. All you will need is a yoga mat and between 15-30 minutes per day to practise.
5. Pull-up challenge
Being able to comfortably execute a pull-up is often seen as the ultimate barometer in fitness. After all, it is one of the toughest upper body moves going, testing your physical and mental endurance.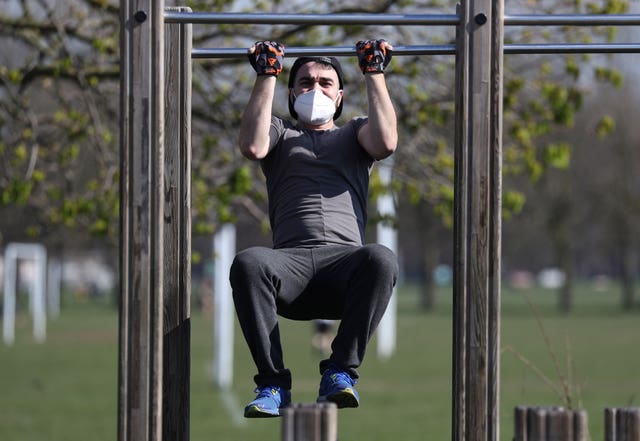 6. Plank challenge
The plank challenge is as simple as it sounds: hold this excruciatingly difficult pose for a portion of time every day. Each day of the challenge, you will gradually increase the amount of time that you hold a plank.
Start with just 20 seconds, and at the end of the 30 days the goal is to hold one for up to five minutes at a time.
7. The seven-minute workout challenge
There are countless seven-minute workout apps available, but they all centre around the same basic rule: you perform 12 exercises for 30 seconds each, with 10 seconds of rest in between, totalling seven minutes.
8. Body weight challenge

The 500 Bodyweight Challenge was started by Greg Brookes (gbpersonaltraining.com), a personal trainer who wanted to devise a series of 10 body weight exercises that you can do anywhere without any equipment.
The 10 moves include push-ups, fast and slow mountain climbers, cossacks, burpees, forward lunges and squat thrusts, and the idea is that you do 50 repetitions of each one (totalling 500 reps altogether). The current record time for the entire workout is a cool 11 minutes and 31 seconds, for those who fancy taking on the reigning champ.
9. Six-week handstand challenge
There are lots of different variations of the handstand challenge online, like the 12-Minute Athlete (12minuteathlete.com), which introduces different exercises you can do to help you build up to the ultimate goal of doing a freestanding handstand.
10. Deadlift challenge
If you are lucky enough to have a home gym, now is a great time to work on your deadlifts.
The deadlift challenge is not about hitting lots of reps, but improving the weight that you are able to lift. You should increase the weight by no more than 10% at a time to your routine to ensure your body stays challenged, and remember to only add weight if you are feeling ready for it. Weightlifting is a gradual process and if you are feeling tired or sore, upping your load could leave you especially vulnerable to injury.