Pubs, restaurants and hotels are to open in Northern Ireland at the start of July,  in a major stride out of coronavirus lockdown.
Ministers in the Stormont Executive agreed to the move at a meeting on Monday.
From June 26, caravan parks, campsites and self-contained tourist accommodation will be able to reopen.
A week later on July 3, hotels, restaurants, cafes, coffee shops, pubs and bars will be able to welcome customers back.
Indoor pubs and bars opening on that date will have to primarily function as restaurants and offer substantial meals with table service.
The food prerequisite does not apply to alcohol being served outside in beer gardens, though table service is again compulsory.
Museums and galleries can also reopen on July 3, but hotel leisure and spa facilities will have to remain closed.
On Thursday, the executive is set to announce further relaxations, with a reopening date for hairdressers anticipated.
She said Covid-19 had not been beaten and "will not be beaten for some time".
"While our health service has weathered the initial storm and we are in a much better place today, we should never forget that less than 10 weeks ago in early April, we had 345 inpatients with Covid-19 and 57 patients in intensive care unit beds," said Mrs Foster.
"Some countries have seen spikes in Covid cases since emerging from lockdown. So we cannot afford to be complacent."
She added: "We have come so far on the executive's roadmap to recovery. But the journey is far from over. And we all have a role to play in ensuring that we can reach our destination safely."
Deputy First Minister Michelle O'Neill acknowledged that some were calling for Northern Ireland to move out of lockdown at a faster pace.
She referenced "stark" modelling data from the Department of Health that indicated a slight rise in the transmission rate in the region could prompt a second wave, with 800 people needing intensive care treatment.
"You can see very clearly that even with a small degree of virus spread that we could be sitting with a second wave that's actually even more devastating than what this first wave is, so that's a consideration that we have to continually make in all of this," she said.
"Our number one priority is saving lives and we're certainly not prepared to play fast and loose with people's lives.
"That's why we'll have to be cautious and that's why we have to be incremental."
Ministers said they would keep the measure under review.
"We're looking at the experiences of other countries," said Mrs Foster.
"So for example in France, they are using the one-metre rule, in Germany it's 1.5 metres. So there are different experiences across the world and we will be looking at those."
Northern Ireland again recorded no further coronavirus deaths on Monday, the sixth occasion in the last nine days.
The Covid-19 death total recorded by the Department of Health in the region remains at 541.
At a post-executive media briefing at Stormont on Monday, Mrs Foster and Ms O'Neill both stressed that a top priority was increasing childcare provision.
Mrs Foster acknowledged that it had not been a main priority when dealing with the height of the first wave, but she insisted it was now "top of the agenda".
The definition of an essential worker used for determining which parents are eligible to access childcare amid the lockdown restrictions has now been expanded to include construction and manufacturing workers.
Ms O'Neill added: "Central to our economic and society recovery is the issue of child care.
"This is an issue that cuts across every aspect of recovery, and it must be prioritised and addressed, not only to keep moving progress forward but to make sure that we are providing much needed support for parents and for the childcare sector."
The ministers said the executive would also consider specific details on the planned reopening of schools at Thursday's executive meeting.
Earlier on Monday, Stormont Economy minister Diane Dodds made the announcement about the hospitality sector on a visit to a Belfast restaurant.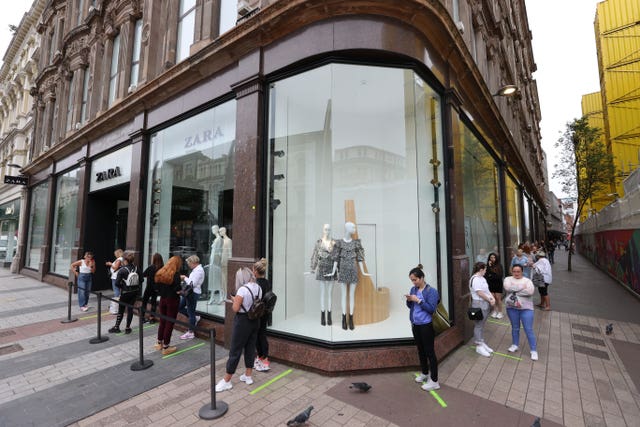 "It's a good day for tourism and hospitality in particular, a sector that has been incredibly hard hit by the lockdown after the pandemic.
"So good news for the sector in general."
Only hotels had previously had an indicative opening date, July 20, with other hospitality outlets having been unclear when they could potentially start trading again.
The proposals to allow hospitality businesses to open on July 3, and caravan parks a week earlier, were contained in a paper tabled before the executive by Mrs Dodds.
Lisa Steele, general manager of the five star Culloden Estate and Spa on the outskirts of Belfast, said: "We are delighted with today's announcement and look forward to welcoming guests back from Friday July 3.
"We've been working hard to prepare our magnificent property for reopening and are excited that guests will soon be able to enjoy the 5-star experience we at Hastings Hotels are renowned for."
A relaxation that allowed people living on their own to interact with one other household in a "social bubble" came into effect in the region on Saturday.
The move saw grandparents reunited with grandchildren after a three-month lockdown absence.
Templeton Robinson estate agent Brent Howell placing a for sale advertisement at their Ballyhackamore branch in east Belfast on Monday (Liam McBurney/PA)Ministers on Monday committed to alter the guidance further in the coming weeks to enable two full households, of any size, to form a social bubble.
On Monday, passenger flights resumed at Belfast International Airport and the housing market also restarted, with estate agents able to show properties to prospective buyers once again.
All non-essential retail outlets were permitted to reopen on Friday.
Some major chains in Belfast city centre, such as Zara and Apple, waited until Monday to welcome customers back.