The Countess of Wessex has celebrated the 21st anniversary of Thames Valley Air Ambulance (TVAA) which airlifted her to hospital during a medical emergency.
Sophie is the patron of the TVAA and toured an airfield in Berkshire, meeting a crew and being shown advanced medical equipment on board their helicopter.
The countess lost her first baby in December 2001 after she was airlifted to hospital by a Thames Valley helicopter following an ectopic pregnancy.
She underwent a two-and-a-half-hour operation to save her life.
TVAA is dedicating the anniversary of 21 years of service to its former patients and families, with its Patients At Heart campaign launching this month.
Sophie spent time talking to past air ambulance patients who shared their life-changing experiences about the care they received.
Sitting outside at White Waltham Airfield near Maidenhead, she spoke to Spencer Hillier, a former RAF pilot, from Lacey Green, Buckinghamshire, who suffered life-threatening injuries when he was hit by a car while cycling in May 2019.
The Thames Valley air ambulance doctor who treated him had never seen anyone recover from such serious injuries but Mr Hiller was back on his bike seven weeks after the accident.
The 47-year-old has since done a charity ride to raise money for the Thames Valley service.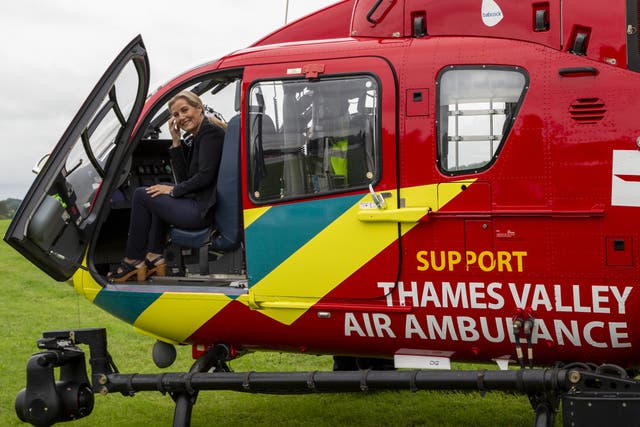 "The doctors and paramedics at Thames Valley Air Ambulance, who fought to save my life by operating on me for two hours by the side of that road, are the reason why I am still here today."
He and Sophie discussed the dangers of cycling with inconsiderate drivers around and she told him that boy racers in high-powered cars plague the roads around her Bagshot Park house in Surrey.
"They use it as a race track," she said. "You can hear them at night."
The countess also met Charlotte Ballard, who was seriously injured in a car crash in 2013 after skidding off the A34 in Chieveley in Berkshire and dropping down a 30ft embankment.
The 27-year-old was inspired to train as a paramedic after returning in 2015 to meet the crew who treated her.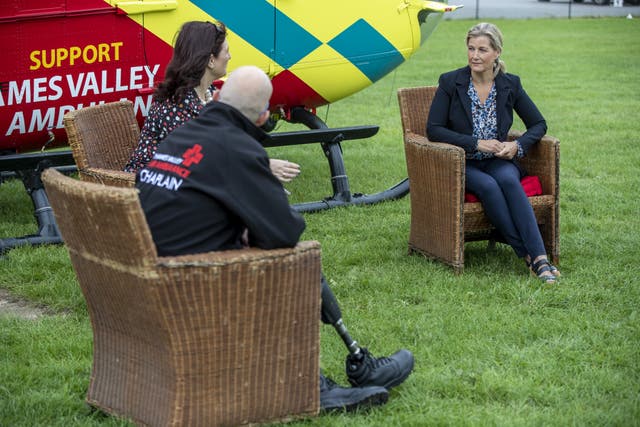 She qualified in July this year and hopes to work on air ambulances after five years' experience elsewhere.
Sophie spoke to the crew, including critical care paramedic Hannah Hirst, doctor James Dearman, and shift manager and paramedic Neil Plant, who has been with the service since the start.
During lockdown the number of traffic accidents and other serious incidents fell dramatically so some of the medics and paramedics on the team switched to treating Covid-19 patients at John Radcliffe Hospital in Oxford.
The countess, who spent much of lockdown volunteering for charities, discussed the challenge of working with masks on and how it has affected treating patients.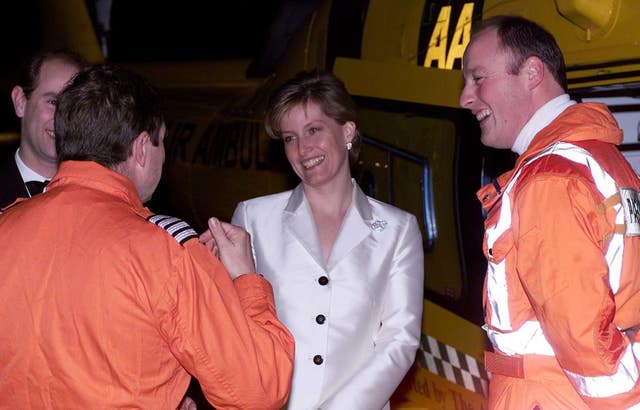 The countess's visit to the airfield came ahead of National Air Ambulance Week, which begins on Monday.
She was appointed TVAA's patron in January last year following her longstanding involvement with the service, which is also a charity.
In April, Sophie joined one of the organisation's weekly crew video calls to hear how its paramedics and doctors were responding to the pandemic during lockdown.