The Scottish Parliament will sit today after being recalled for only the sixth time in its history to show respect to the Duke of Edinburgh.
Holyrood's presiding officer, Ken Macintosh, announced on Friday that MSPs would be able to return to parliament to pay tribute to Philip with a motion of condolence from 11am on Monday.
All of the parties at Holyrood have also temporarily suspended their campaigning for the Holyrood election.
"His Royal Highness, Prince Philip, lived a life dedicated to duty and public service and his support for this institution was clear.
"This is why I have taken the decision to recall in order that we may take the time to pause, remember and pay tribute to his work."
The meeting will start with a minute's silence before considering a Motion of Condolence with a statement from party leaders.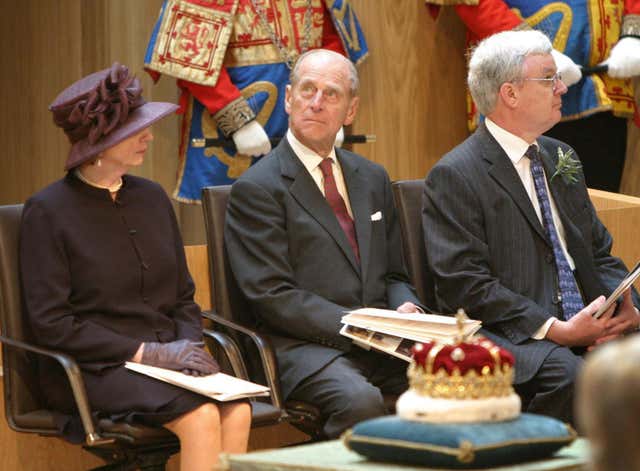 Holyrood's first presiding officer Lord Steel told the BBC's Good Morning Scotland programme on Monday: "He was never a fan of modern architecture like Prince Charles, we can joke about that, but, yes, he was a great supporter of our parliament.
"I think (recalling parliament is) quite right and I think everybody wanted to be able to say goodbye to him in a proper way.
"The fact that we have a whole week of public mourning, I think, is testimony to his effectiveness as he was described yesterday by his son as grandfather of the nation – I think that's how he'll be remembered."
Lord Steel, who was known as Sir David Steel when he held the Holyrood role from 1999 to 2003, added: "You can't indefinitely hold off the election but I think he's right that we have a pause just to remember him."
A notice announcing the death was briefly posted on the gates of the Palace of Holyroodhouse, the Queen's official residence in Edinburgh, on Friday afternoon.
Flags were lowered to half mast there, as well as at the Scottish Parliament, Scottish Government and local authority buildings.