Nicola Sturgeon has announced she will stand down after eight years as First Minister, arguing that resigning is the best step for herself, her party and for Scotland.
In a shock announcement on Wednesday, the SNP leader said she believes the "time is now" to stand aside but denied reacting to "short-term pressures" after a series of political setbacks.
The longest serving – and first female – First Minister told a hastily arranged press conference she will remain in office while the SNP select her successor.
Ms Sturgeon, who guided the nation through the coronavirus pandemic and led the SNP to repeated election victories at UK, Scottish and local level, acknowledged the "physical and mental impact" of the role.
"If the question is can I battle on for another few months then the answer is yes, of course I can," the 52-year-old said.
"Since my very first moments in the job I have believed a part of serving well would be to know almost instinctively when the time is right to make way for someone else," she said from her residence at Bute House in Edinburgh.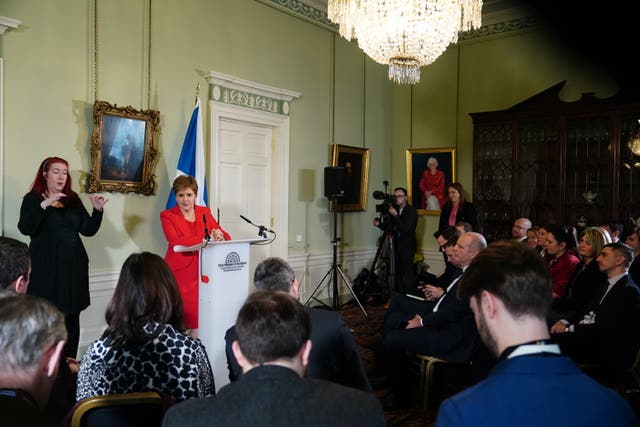 The First Minister has suffered a series of political challenges in recent months as her Government sought to push through gender reforms, only for them to be blocked by Westminster.
She insisted the row surrounding a transgender double rapist being sent to a women's jail "wasn't the final straw" but said it is "time for someone else" to lead the party.
Ms Sturgeon acknowledged the "choppy waters" but insisted her resignation was not in response to the "latest period of pressure".
Ms Sturgeon rose to power unopposed after the ill-fated independence referendum in 2014, taking over from Alex Salmond, the mentor with whom she would come into conflict in the years to come over the handling of sexual harassment allegations made against him.
Last year the UK's Supreme Court ruled that the Scottish Government does not have the power to hold another independence referendum, as Westminster blocks the move.
Her surprise exit led political commentators to draw parallels with the sudden resignation last month of Jacinda Ardern as New Zealand's prime minister.
But she vowed to continue in politics and said her life-long cause of independence is "being won".
Ms Sturgeon refused to answer questions about whether she had been interviewed – or expects to be questioned – in a police inquiry into £600,000 of party funds raised from members to fight an independence campaign.
Prime Minister Rishi Sunak thanked Ms Sturgeon for her "long-standing service" and his Scottish Secretary, Alister Jack, said Ms Sturgeon had been a "formidable politician".
"I want to see a Scottish Government that works hand in hand with the UK Government to realise our full potential as a country."
Sir Keir Starmer will also be closely following the next steps as the rise of the SNP to the detriment of Labour has played a role in keeping the party out of power in Westminster.
Ms Sturgeon indicated she will continue on the backbenches as an MSP "until, certainly, the next election" for Holyrood, which is due in 2026.
She described being First Minister as "the privilege of my life", adding: "Nothing, absolutely nothing, I do in future will ever come anywhere close."
Among those paying tribute to Ms Sturgeon was potential successor, and Scottish Health Secretary, Humza Yousaf who said he was "gutted" to see her standing down.
However, SNP MP Joanna Cherry, who has clashed with Ms Sturgeon particularly over gender issues, called for "reform and healing" in their party.
"Our party needs a leadership election that is about policies and not personalities," she said.
"We must restore the SNP's tradition of internal party democracy, open respectful debate and intellectual rigour and we must also put the welfare of everyone living in Scotland back at the heart of our endeavours."
Potential candidates to succeed Ms Sturgeon include External Affairs Secretary Angus Robertson, Secretary for Finance and Economy Kate Forbes, and deputy first minister John Swinney.
Former prime ministers Theresa May and Gordon Brown paid tribute to Ms Sturgeon, with Conservative Mrs May saying: "We disagree on many issues but I'd like to thank you Nicola Sturgeon for your long, tireless service to our country and for the professional relationship we maintained as leaders.
"I can assure you that there is plenty of scope to contribute from the backbenches."