The Royal College of Nursing (RCN) has announced a significant escalation in strike action at more than 120 NHS employers in England in the increasingly bitter dispute over pay and staffing.
The college, which accused the UK Government of refusing to engage in negotiations, also said it will increase financial support for its members who lose wages by taking industrial action.
The next strike will run continuously for 48 hours from 6am on March 1.
Previous action took place only during the day shift, for 12 hours each time.
For the first time, the RCN will involve nursing staff working in emergency departments, intensive care units, cancer care and other services that were previously exempted.
A strike last week saw the RCN agree 5,000 exemptions at local level through committees of NHS hospitals and RCN staff, but this process will be stopped for the March dates.
The RCN said it was continuing discussions with the NHS at national level as part of its commitment to "life and limb" care.
It will reduce services to an "absolute minimum" and ask hospitals to rely on members of other unions and other clinical professions instead.
The nursing union announced that the initial strike benefit rate will be increased from £50 to £80 per day, with the rate increasing to £120 from the fourth day of action.
RCN general secretary Pat Cullen, said: "It is with a heavy heart that I have today asked even more nursing staff to join this dispute.
"These strikes will not just run for longer and involve more people but will leave no area of the NHS unaffected. Patients and nurses alike did not want this to happen.
"By refusing to negotiate with nurses, the Prime Minister is pushing even more people into the strike. He must listen to NHS leaders and not let this go ahead.
"I will do whatever I can to ensure patient safety is protected.
"At first, we asked thousands to keep working during the strikes but it is clear that is only prolonging the dispute.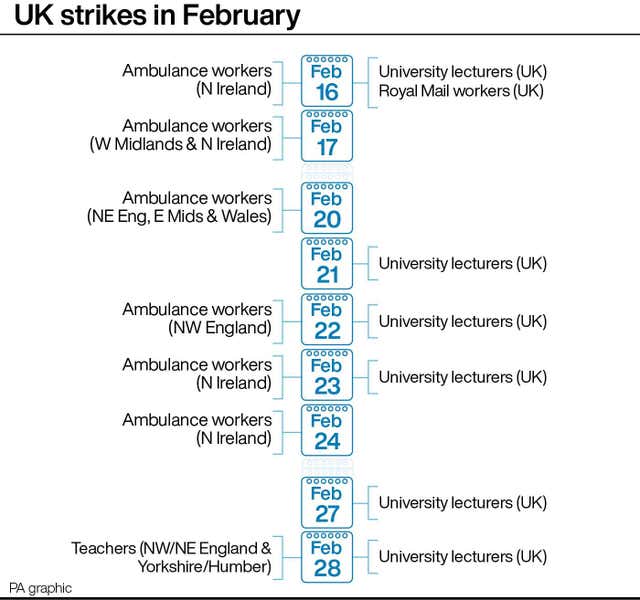 Health and Social Care Secretary Steve Barclay said: "Failure to provide cover during strike action for key services like cancer care is a significant escalation from the Royal College of Nursing that will risk patient safety.
"We are working closely with NHS England on contingency plans, but this action will inevitably cause further disruption for patients.
"I've had a series of discussions with unions, including the RCN, about what is fair and affordable for the coming year, as well as wider concerns around conditions and workload."
Sir Julian Hartley, chief executive at NHS Providers said: "This is the most worrying escalation of strikes yet. With more than 140,000 appointments already postponed as a result of the walkouts, this is a step no one wants to take.
"With further strikes by ambulance workers planned in the coming days and weeks, and junior doctors' walkouts also likely, trust leaders are now in a near-impossible position. They're deeply concerned the escalation could hamper their efforts to tackle care backlogs and compromise continuity of care for some.
"Without a resolution, this ongoing dispute could lead to serious, long-term damage to the NHS. We understand that frontline staff feel they've had no choice but to take this action due to challenges including the high cost of living, workforce shortages and below-inflation pay rises.
"Trust leaders will be working flat out to ensure patient safety and provision of vital services but they can only do so much by themselves. The Government needs to talk to the unions urgently about pay for this financial year."
Wes Streeting, shadow health secretary, said: "People will be flabbergasted that, three months into this dispute, Rishi Sunak still refuses to get around the table with health unions to bring an end to strikes in the NHS.
"There hasn't been a single minute of negotiation but there have been tens of thousands of cancelled operations and appointments. Patients are paying the price for the Conservatives' refusal to negotiate."
Matthew Taylor, chief executive of the NHS Confederation, said: "This announcement from the Royal College of Nursing was expected but is the last thing NHS leaders wanted to see, with many now facing significant disruption to local services.
"The next round of strikes will be longer and even tougher to manage, with patients likely to face a higher number of cancelled operations.
"NHS leaders will plan for these strikes as they have prepared for all strikes to date. They will work closely with local union representatives to ensure the delivery of safe care and to minimise patient disruption as best as they can.
"But it is clear that this more intense wave of strike action will be more disruptive than what we have seen so far.
"We have now regrettably drifted into dangerous 'business as usual' territory when it comes to strike action.
"As we feared, this has become a war of attrition that has gone on for far too long, with no end in sight.
"For the sake of patients, we urge the Government and unions to restart talks and to reach a compromise imminently."