DUP deliberations on the Windsor Framework will not be knocked off course by rhetoric and will instead be grounded in reality, the party leader has insisted.
Sir Jeffrey Donaldson acknowledged improvements had been made to post-Brexit Irish Sea trading arrangements for Northern Ireland but said questions remain about "core sectors of our economy".
He reiterated that his party will take time to secure "clear answers" on aspects of the proposed arrangements they still have questions about.
Ms McDonald and Sinn Fein vice president Michelle O'Neill met party activists in Belfast on Saturday morning to update them on the week's developments.
The UK and EU are hoping their proposed framework to deliver changes to the contentious Northern Ireland Protocol will be enough to convince the DUP to return to devolved government.
While the DUP has made clear it will make a collective decision, factoring in views across the party, some prominent DUP figures including Sammy Wilson, Lord Dodds and Ian Paisley have already expressed concerns whether the changes to the Irish Sea trading arrangements go far enough to address their concerns over trade and sovereignty.
Sir Jeffrey updated party members and supporters in a message on Saturday morning.
The message, seen by the PA news agency, stated: "This party will always stand up for Northern Ireland. Our rationale is to look at the long term and build a better Northern Ireland for the next generation.
"There are some who would say 'yes' to anything and others who would say 'no' to everything because they are more focused on where they have come from than where they are going.
"As the custodians of Northern Ireland's future, however, we must carefully weigh up the strengths, weaknesses, opportunities, and threats of each situation.
"Where improvements have been made, we will recognise progress and where questions remain, we will take the time to get clear answers.
"In assessing the way ahead, we will not be knocked off course by rhetoric, but we will keep grounded in reality and judge the deal against our seven tests as set out in our 2022 manifesto."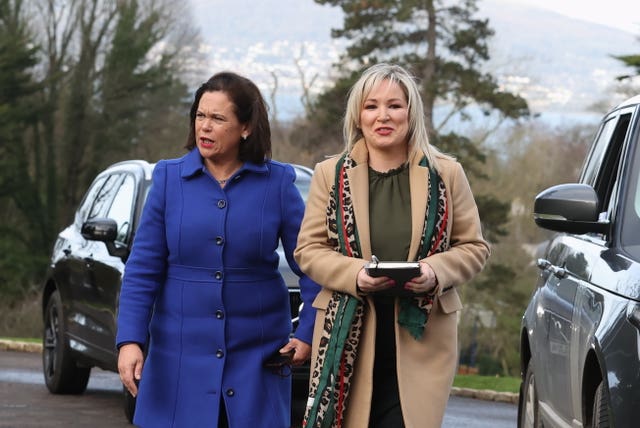 The latest deal between London and Brussels seeks to remove many of those post-Brexit trade barriers, creating a new system for the flow of goods into Northern Ireland.
In the message, Sir Jeffrey criticised rival parties at Stormont that had supported the implementation of the protocol.
"People said it couldn't be done, but this party has proved that it could. Brussels came back to the table and changes have been made," he said.
"Whilst we will study the fine print and take expert advice, improvements have been made especially regarding trade however questions remain over core sectors of our economy.
"If the DUP had taken the same approach as Sinn Fein, the SDLP and the Alliance Party, Northern Ireland would be in a worse position today. They not only wanted the Protocol, they wanted it on steroids."
He added: "Those pro-protocol parties were more focused on the EU's interests than they were on Northern Ireland's interests."
"I think we need to be very careful here not to keep playing the politics of this long," she said.
"Of course people need to work their way through the detail of this deal. We're doing that, everybody needs to do that. We have consistently said that that can be done whilst the Assembly and the Executive is up and active and delivering for people.
"So we would encourage everyone, but particularly the DUP, to make their decision now, and to give people what they want and what they need, which is government.
"Now, all of the matters that need clarification, can be clarified. But that really cannot be used as an excuse for no executive and no assembly. I think time has run out on that now."
She added: "A return of government or return of the assembly, respecting the democratic verdict of all of the electorate, nationalists, republicans, unionists and loyalists also is a win for everyone.
"What we have at the moment is the worst of all possible worlds, we have stalemate."
Ms McDonald said the DUP returning to devolution was the "right and sensible thing" to do.
"For us, it is now all about getting government back up and running.
"We now have the negotiations concluded, there is a deal on the table, we are absolutely satisfied that it ensures no hardening of the border on the island, protection of the Good Friday Agreement, protection of the all-Ireland economy and of course, access to the European market, which is so essential for the economic opportunities here.
"And now it's decision time. That is really it.
"We are making active preparations for a return of the Assembly, for a return of the Executive and there really is no time to lose. This is not a time for continuing limbo.
"People, I think, want and absolutely deserve now a decision and a very, very speedy establishment of government."