Notorious prisoner Charles Bronson has post-traumatic stress disorder after facing some "brutal and unacceptable" treatment behind bars, a psychologist told his parole hearing.
The second day of Bronson's parole review heard one of the UK's longest serving prisoners holds "anti-authoritarian views" and is "suspicious" of the motives of others.
Three parole judges – who have not been publicly named – are considering his case at HMP Woodhill in Milton Keynes, Buckinghamshire, while members of the press and public watched the proceedings on a live stream from the Royal Courts of Justice in central London.
Bronson likened his experience in front of the Parole Board to being on The Apprentice and, inviting the panel to view his art, said each work is a "piece of me".
An independent psychologist employed by Bronson's legal team told the hearing: "He feels like the whole system is about humiliating and degrading him."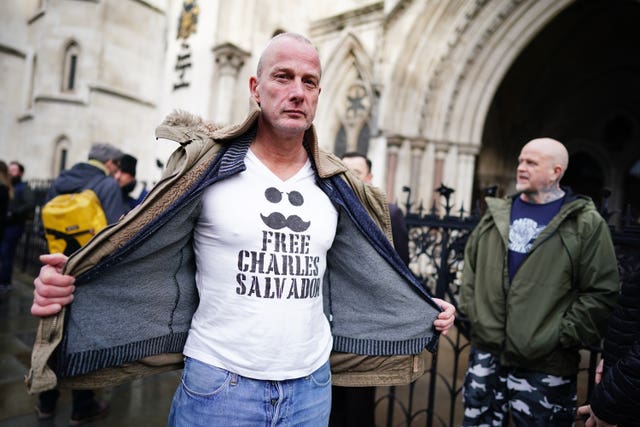 She said he has mild symptoms of post-traumatic stress disorder, partly due to some "brutal and unacceptable treatment" while in the prison system.
Bronson – whose real name is Michael Peterson – has previously been diagnosed with anti-social personality disorder, is "naturally somewhat suspicious of other people's motives" and holds "anti-authoritarian views", the psychologist added.
Once dubbed one of Britain's most violent offenders, Bronson has spent most of the past 48 years behind bars, apart from two brief periods of freedom during which he reoffended, for a string of thefts, firearms and violent offences, including 11 hostage-takings in nine different sieges. Victims included governors, doctors, staff and, on one occasion, his own solicitor.
He was handed a discretionary life sentence with a minimum term of four years in 2000 for taking a prison teacher at HMP Hull hostage for 44 hours. Since then, the Parole Board has repeatedly refused to direct his release.
The review heard that Bronson has a "romanticised" view of violent incidents in the past, after he told parole judges how he loved a "rumble" and enjoyed mass brawls in prison but insisted he has since found solace in art and is a man of "peace".
While he found violence "cathartic" in the past, he now draws on art in the same way, the psychologist – who was not named – said.
She told the hearing she believes Bronson should eventually be moved to a lower security prison with open conditions to allow him to interact with other people and poses "less of a risk" outside of jail.
She said he has been held in "very solitary conditions for a long period of time" and that a move from the close supervision unit where he is being held is "long overdue".
His violence towards prison staff has been fuelled by a dislike of authority figures, but this does not extend to members of the public, the psychologist added.
Bronson has never used a cash machine and will need practical support if released, she said.
A member of prison staff who is Bronson's personal officer said that he has a good rapport with the veteran inmate, who he said is one of the easiest prisoners to deal with at Woodhill.
Asked about his risk of reoffending if released, he said: "Just from talking to Charlie I know how much he wants to get out.
"He knows that if he does something wrong he'll be back inside and that will be the final nail in the coffin."
None of the prison and probation officials who gave evidence at the parole hearing said he was ready to be released.
On Monday, Bronson could be heard muttering under his breath at times and sighing loudly during the proceedings, but he largely remained silent as the psychologist gave evidence on Wednesday.
He said of the hearing: "It's like being on The Apprentice (with) Lord Sugar."
Later Bronson's friend, author Richard Booth, said the pair, who speak on the phone four or five times per day, plan to set up a charitable foundation with proceeds raised by selling the 70-year-old's art.
Pieces sold so far have raised around £100,000, of which a third is planned to go to the charitable foundation and the remaining two-thirds is held in a separate account but is not for profit, Mr Booth said.
As he left the room after giving evidence, Bronson said: "You're a legend mate."
Bronson – who changed his surname to Salvador in 2014 – is the second inmate in UK legal history to have his case heard in public after rules changed last year in a bid to remove the secrecy around the process.
The third and final day of the proceedings will take place behind closed doors on Friday so confidential details can be discussed.
The Parole Board will consider whether he should remain behind bars after the hearing, with a decision due at a later date.