Rishi Sunak will face MPs for the first time since detailing plans for fresh laws to curb Channel crossings.
The Prime Minister will go head to head with Sir Keir Starmer on Wednesday after Labour described the proposed policy as a "con" that was no more likely to be successful than prior Tory efforts to tackle the migration crisis.
Mr Sunak could be challenged over how the legislation will work in practice and how it might stand up to anticipated legal challenges.
He added he was "confident" the Government would win legal battles over the "tough" but "necessary and fair" measures.
Home Secretary Suella Braverman admitted to MPs that there is a "more (than) 50% chance" the legislation may not be compatible with the European Convention on Human Rights (ECHR).
Announcing the plans in the Commons on Tuesday, Ms Braverman said asylum seekers arriving illegally will be detained without bail or judicial review for 28 days before being "swiftly removed" to their home country or a "safe third country" such as Rwanda.
They face a lifetime ban on returning once deported and will never be allowed to settle in the country or gain citizenship.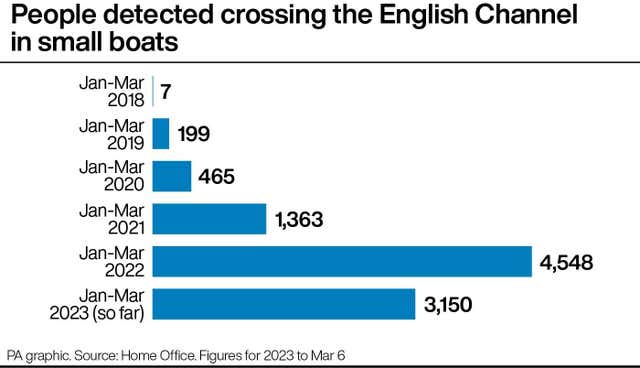 But Conservative MP Richard Graham expressed optimism over the courts' rulings on UK refugee policy, telling BBC Newsnight "there are interesting indications that actually in Strasbourg our case is being listened to".
Mr Sunak told a Downing Street press conference that migrants arriving in the UK illegally will be removed "within weeks" and that the Bill will apply "retrospectively" if passed.
The UN's refugee agency, the UNHCR, said it was "profoundly concerned" by the Bill and that, if passed, it will amount to an "asylum ban".
Vicky Tennant, UNHCR representative to the UK, told Newsnight: "We believe it's a clear breach of the Refugee Convention. And remember, even people with very compelling claims will simply not have the opportunity to put these forward."
Critics also included BBC presenter Gary Lineker, who faced censure from the broadcaster after writing on Twitter: "This is just an immeasurably cruel policy directed at the most vulnerable people in language that is not dissimilar to that used by Germany in the 30s."
In an email to Tory members, the Home Secretary claimed that previous attempts to end Channel crossings without resorting to changing the law had been blocked by "an activist blob of left-wing lawyers, civil servants and the Labour Party".
Mr Sunak will meet French President Emmanuel Macron on Friday to discuss further co-operation that will be required to reduce boat crossings.