The new Duke of Edinburgh told Ukrainian refugees he hoped they could make Scotland their home for as long as they felt they needed as he attended a reception marking one year since the Scottish capital welcomed the first Ukrainians to the city.
In his first official engagement in the role after the King appointed him, Edward addressed refugees at a reception in Edinburgh's City Chambers on the Royal Mile on Friday.
He said: "I hope you can all try to make Scotland and Britain your home for as long you feel that you need to stay here and we will try to make it as welcoming and as safe as possible for you.
"I wish you all the very best in the future and we're thinking of you.
He said: "Thank you for welcoming us to Edinburgh today on, indeed, a very special and very overwhelming day for now my wife and duchess," he joked, while looking at his wife.
He added: "I also want to express my thanks to everybody who has worked so hard to make our Ukrainian friends so welcome."
Before making their way into the City Chambers, Edward and Sophie stopped to greet the hundreds of well-wishers gathered on the Royal Mile on the cold, but sunny afternoon.
Many of them were tourists on holiday in Edinburgh from as far away as Washington DC.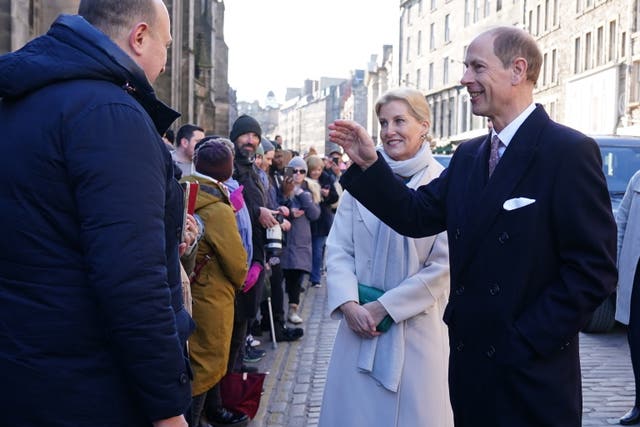 Lord Provost of Edinburgh Robert Aldridge congratulated Edward and welcomed him to Edinburgh's City Chambers before they climbed the building's famous staircase.
They met council officials including council leader Cammy Day.
Running slightly late, the duke shared a joke with one official about the roadworks in Edinburgh and said he had "come to drop some hints" about it.
He then met Ukrainian refugees who have settled in Edinburgh, telling one: "I can't believe we are a year on" and asking if she was able to have contact with her family back in Ukraine and if they were being well looked after in the city.
A Ukrainian choir then sang a Ukrainian song and the traditional Ukrainian "Happy Birthday" song.
The reception finished with an emotional rendition by the piper of the Ukrainian national anthem before Edward and Sophie were presented with a bouquet of sunflowers by 10-year-old Marianna Melnyk, dressed in the Ukrainian national dress.