Two of Liz Truss's former cabinet ministers have urged the Chancellor to "let capital rip" and do more on the "generators of growth".
Kit Malthouse, who briefly served as education secretary under Ms Truss, told the Commons about the importance of remembering the "basic tenets of capitalism" and suggested "putting shares into the hands of young people".
Meanwhile, Simon Clarke, the former communities secretary who recently set up the Conservative Growth Group, stressed the Government should do more about housing and address the challenges posed by nimbyism and nutrient neutrality.
The two senior Tories were talking on the final day of the Budget debate in the Commons.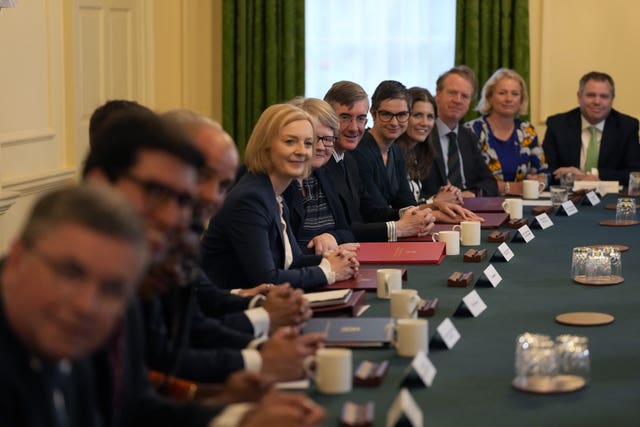 He went on: "You have to make sure that profit can be made from taking risk and critically, you also have to allow that capital to spread into as many hands as possible.
"We talk a lot about housing in this country, we talk a lot about putting houses in the hands of young people.
"We never talk about putting shares into the hands of young people, encouraging them to own shares in the business for which they work in, to participate in a capitalist economy."
Meanwhile, Mr Clarke told MPs there were many welcomed measures in the Budget, but noted "there were of course some aspects which I wish had been different".
"I think we've seen the consequences already with the decision of AstraZeneca to choose the Republic of Ireland over the UK for their next investment.
"I do welcome the offsetting benefits of the full expensing which was announced by the Chancellor.
"If that is to work, it is vital that is a permanent decision rather than temporary relief otherwise it will have a distorting effect on business investment."
He added: "I also believe and this will not surprise members across the House that we need to do more on the generators of growth more generally.
"I would particularly point out the importance of housing… We know that in the end the only sustainable way to improve our economic activity in this space, but also the social justice of our housing debate is to build more homes, addressing the challenges of both nimbyism, but also nutrient neutrality."
Mr Clarke was not the only Tory to address corporation tax during the course of the debate.
Conservative MP Anthony Browne (South Cambridgeshire), a member of the Treasury Committee, said he would prefer not to see corporation tax go up but welcomed the new policy of "full expensing".
He said: "I'd prefer not to see corporation tax go up to 25%, but actually that's still the most competitive in the G7. This full expensing goes a long way to reverse that."