A new opinion poll has indicated that Northern Ireland's largest three political parties have consolidated their dominance.
Last year's Stormont election saw Sinn Fein returned with the largest number of MLAs, becoming the first nationalist party in Northern Ireland to do so.
The Irish News/Institute of Irish Studies/University of Liverpool poll shows a 1.6% increase for Sinn Fein from the Assembly election last May to lift its vote share to 30.6%.
The poll suggests Sir Jeffrey Donaldson's party has slightly increased its share of the vote from last year by 2.6%, from 21.3% to 23.9%.
The Alliance Party has also increased its support further from its record 13.5% to move into third place, to 15.4%, the polling indicates.
The UUP vote remains stable, increasingly slightly from 11.2% to 11.3%, while the SDLP vote has fallen from 9.1% to 6.7%, and support for the TUV has fallen from 7.6% at the Assembly election, to 4.8%.
Professor Peter Shirlow from the Institute of Irish Studies at the University of Liverpool said the results show the trends from last year's Assembly election are continuing.
"Sinn Fein would remain in first place and Alliance at the very least hold their recent growth," he told the Irish News.
"The DUP seem to be clawing back some TUV voters, who may now realise voting for Jim Allister led to Alliance victories and Sinn Fein emerging in pole position."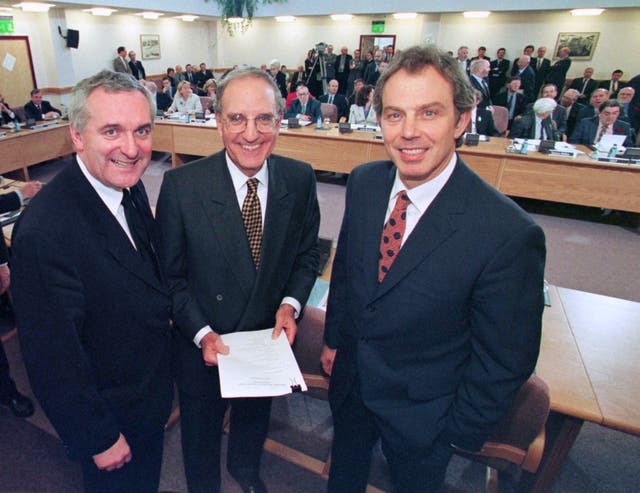 The poll suggests that 23% give unqualified support for the historic accord, 37% back it but believe it would work better if reformed, 13% believe the structures are no longer a basis for regional government and should be substantially changed, and 7.2% believe the structures should be removed.
In terms of community background, 67.2% of nationalists back the agreement 25 years on, 57.5% of unionists back the agreement in some form and 58.2% of others also support it.
Polling was carried out between March 3-14 and has a margin of error of plus/minus 3.1%.