A third of young people in Britain are scared, sad or pessimistic about climate change, with more than a quarter feeling overwhelmed, according to a new poll.
More young people said they were "very worried" about climate change than older people, with 18% of over 65s compared with 31% of 16-24-year-olds.
Commissioned by the Woodland Trust, the poll also found that 24% of 16-24-year-olds have decided, or are considering, having few children out of fear for the climate.
Woodland Trust chief executive Dr Darren Moorcroft called the results "alarming" and said more people should have access to nature as a way to soothe their climate anxiety.
Of all the people questioned, 86% said they felt that being outdoors and in nature had a positive effect on their mental health.
"This new data shows that climate change is jeopardising more than just the environment, with people's mental wellbeing and future life plans also affected.
"We know that being outdoors and among nature has a positive effect on mental health – but the level of access to green space in the UK is simply not good enough."
The UK currently has just 13% woodland cover, of which only 7% is in good ecological condition, the Woodland Trust said, compared with a European average of 37%.
A report from the charity in 2021 said only 16.2% of people in the UK had access to at least two hectares of green space within 500 metres of their home – down from 21.1% in 2016.
Hayley Jarvis, head of physical activity at the mental health charity Mind, said outdoor activity can help to improve mental wellbeing.
She said: "Ecotherapy, a type of formal treatment which involves doing activities outside in nature, can be as effective as antidepressants in treating mild to moderate depression and anxiety."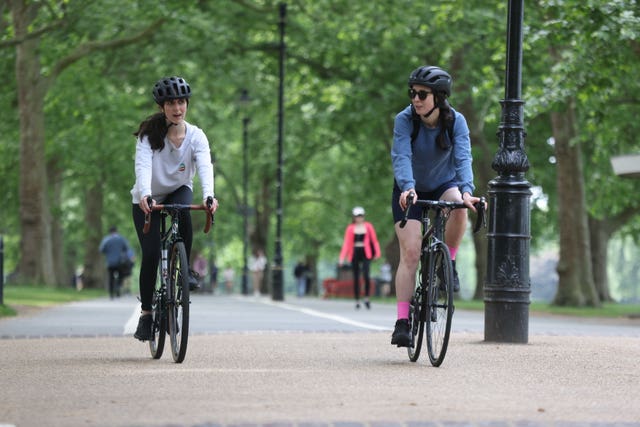 "I suffer from anxiety but the Young People's Forest has contributed massively towards the transformation of my confidence," she said.
"I turned to the environment and nature for comfort and distraction. This habit led to a life-changing therapy.
"I have gained the most valuable experiences, had opportunities to learn, to physically take part in the project and to meet new people who have the same interest in appreciating and looking after our environment."
Naomi Tilley, a Woodland Trust campaigner, said being in nature and working with the charity helps to ease her sense of climate anxiety while reminding her of the overall objective of her work.
She said: "I find resilience and channel my private anxiety by doing work that helps the climate crisis and nature decline.
"But yes, I've definitely experienced it in different ways, it filters into almost every part of my life, I would say.
"I definitely can see myself in the stats as someone that's overwhelmed by it all at times.
"Being part of the movement to restore nature and to decarbonise society gives me a lot of strength but also spending time in nature a lot, without a doubt.
"Being connected to trees and to woods and being in and with nature is a really important way of feeling connected to what it is I'm fighting for."