The Metropolitan Police have "nowhere to hide" after a "rats' nest" of institutional misogyny was exposed by a damning report, women's organisations have said.
Centre for Women's Justice (CWJ), Rape Crisis, the End Violence Against Women Coalition and Women's Aid have called for urgent changes to the UK's largest police service after a scathing review was published on Tuesday.
Baroness Louise Casey's review of the culture and standards in the force, commissioned after Sarah Everard was murdered by serving officer Wayne Couzens, found the force is institutionally racist, misogynist and homophobic.
CWJ, a legal charity that campaigns for victims of male violence, said the review "confirms a culture which not only tolerates but fosters many of the worst forms of criminal abuse from within its ranks and reveals shocking treatment of forensic evidence gathering in sexual violence investigations".
"As an organisation that works with victims of male violence and police abuse, the rats' nest that has been laid to bare provides an explanation for the repeated dreadful stories we hear from the many women who have contacted us," a spokesman added.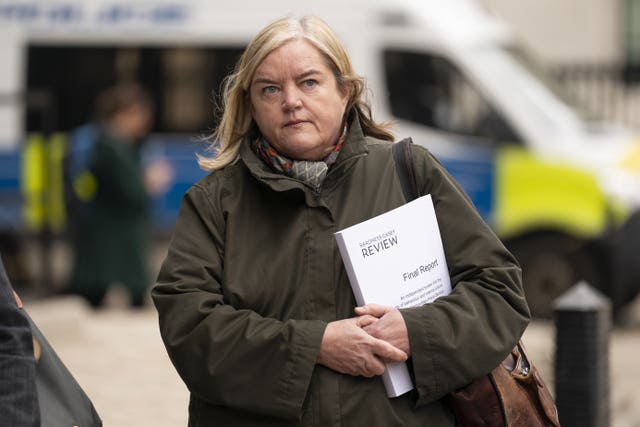 CWJ director Harriet Wistrich called for the all report's recommendations' to be "accepted and effectively" enacted, with police chiefs held accountable for their implementation and regular reviews of this process.
Jayne Butler, chief executive of Rape Crisis, a charity working to end sexual violence and abuse, said the review is "the latest in a long line of reports that outline the serious and deep-rooted failures within the Metropolitan Police".
"It should not take years of scrutiny for changes to be made: radical transformation is now a matter of urgency.
"We are tired of hearing a rhetoric of building trust.
"Trust will only follow when policing is effective in minimising rather than enabling harm to women."
Andrea Simon, director of the End Violence Against Women Coalition, added: "This damning report leaves the Met nowhere to hide when it comes to the depth of its problems with institutional misogyny, racism and homophobia.
"Words can only go so far, and the Met cannot be more concerned with fixing their image than fixing their problems.
Met Police Commissioner Sir Mark Rowley has accepted there is racism, misogyny and homophobia in the force but said he would not use the term institutional.
Lucy Hadley, head of policy at Women's Aid, said: "Baroness Casey has found that the Met is broken. If this shocking report does not lead to system-wide change within the country's largest police force, what will?
"Every day, our services hear from domestic abuse survivors saying they have been failed by the police – women who are not believed, women whose pain is underplayed, women whose lives are treated as less.
"This report lays bare this reality – finding that the police officers who respond to domestic abuse and sexual violence across the capital are inexperienced, over-stretched and under-resourced.
"The Met Commissioner's apology is welcome, but words are not enough.
"Too many women have been hurt and killed – the Met must change to ensure women and children get the protection and support they deserve and to root out the endemic racism, homophobia and sexism which is breaking the public's trust in the force."