The cost of detaining and accommodating people under the Government's controversial plans to tackle Channel crossings could amount to more than £9 billion in the first three years, according to a refugee charity.
More than 250,000 people, including up to 45,000 children, could have their asylum claims deemed inadmissible under the Illegal Migration Bill in that time, the Refugee Council said.
The charity said its policy experts came up with the estimates as part of an impact assessment of the consequences of the first three years of the Bill, assuming it comes into force on November 7, six months after it was introduced in Parliament.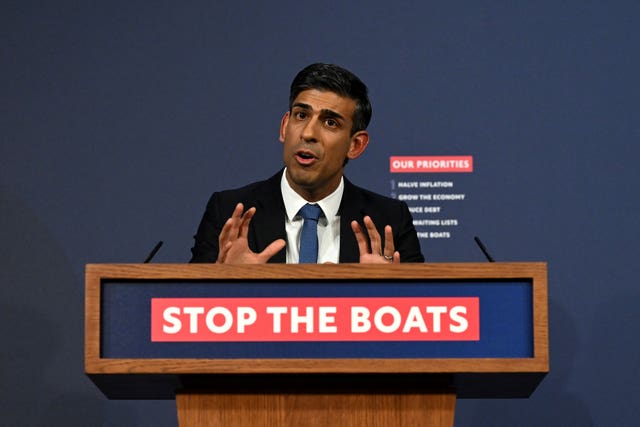 The Refugee Council assessment said: "In the first three years of the legislation coming into effect, between 225,347 and 257,101 people will have their asylum claims deemed inadmissible. This includes between 39,500 and 45,066 children.
"At the end of the third year, between 161,147 and 192,670 people will have had their asylum claims deemed inadmissible but not have been removed. They will be unable to have their asylum claims processed, unable to work and will be reliant on Home Office support and accommodation indefinitely.
"In total, between £8.7 billion and £9.6 billion will have been spent on detaining and accommodating people impacted by the Bill in the first three years of its operation."
It said its lower estimates assume 50% of people will be detained under the Bill and upper estimates assume 100% of people will be detained.
The organisation said it is important to note the Home Office does not publish data on how many people who apply for asylum arrive irregularly other than by boat, and said it based its figures on existing data from reports by the Independent Chief Inspector of Borders and Immigration.
It said estimates are likely to still be conservative "based on our experience at the Refugee Council of working with people who arrive in the UK".
The Bill aims to stop people claiming asylum in the UK if they arrive through unauthorised means, though it has been denounced by the UN's refugee agency as an effective "asylum ban".
He said: "All the evidence shows that the vast majority of those who come here by so-called irregular routes are refugees escaping bombs and bullets, violence and persecution.
"They take these dangerous journeys as no workable alternatives exist for them – unlike Ukrainians who were rightly able to come to the UK on a visa scheme.
The Government said the current asylum system costs £3 billion a year, including around £6 million a day on hotel accommodation.
Responding to the Refugee Council's analysis, a Home Office spokesman said: "We do not recognise the figures used in this report. The aim of the Illegal Migration Bill is to act as a deterrent and significantly reduce illegal migration when it comes into force.
"The UK has a proud history of supporting those in need through our safe and legal routes, offering protection to almost half a million men, women and children.
"While we are committed to ensuring there are routes to safety for vulnerable people across the globe, we must grip the rise in illegal migration and stop the boats. That is why we are making people who come to the UK illegally liable for detention and swift removal."