Boris Johnson missold his Northern Ireland Protocol deal and risks becoming a "pound shop Nigel Farage" by voting against an attempt to fix it, according to a Conservative minister.
In a show of blue-on-blue Tory infighting over Rishi Sunak's Windsor Framework, Northern Ireland minister Steve Baker criticised Mr Johnson's decision to come out against the revised Brexit terms with the European Union.
He said the former prime minister's stance risked him being viewed as a pale imitation of Mr Farage, the former pro-Brexit Ukip party leader.
During the 2019 general election campaign, Mr Johnson told Northern Ireland businesses they could put customs declaration forms "in the bin" because there would be "no barriers of any kind" to trade crossing the Irish Sea.
However, the protocol kept the province following EU rules on goods in order to avoid a hard border in Ireland, creating trade barriers between Northern Ireland and Great Britain, including increased customs paperwork.
Mr Sunak's Windsor Framework has looked to alleviate some of the red tape caused by the protocol by establishing check-free customs lanes for GB goods destined only for Northern Ireland.
Both Mr Johnson and his short-lived successor Liz Truss have announced they intend to vote against the "Stormont brake" element of Mr Sunak's deal in the Commons on Wednesday when it is put to MPs.
While it is a vote on one part of the Prime Minister's agreement with Brussels, it is being read by No 10 as Parliament having its say over the entire pact.
Mr Baker, an ardent Brexiteer who was influential in bringing an end to Theresa May's premiership following Tory dissatisfaction with her approach to EU negotiations, said Mr Johnson and Ms Truss should "be backing the Windsor Framework today".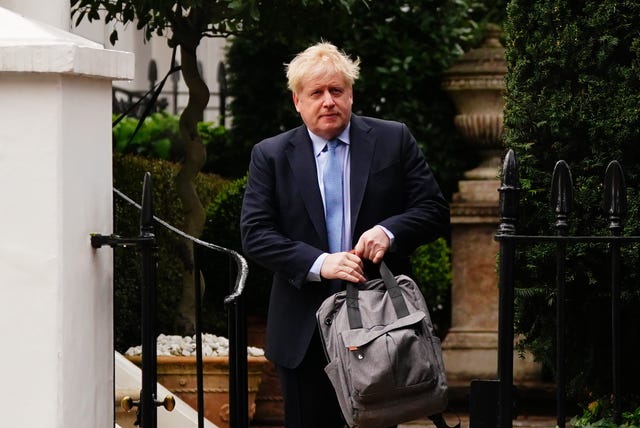 "We've partly reached this point thanks to Liz Truss setting the process in train.
"And today's measures are better, of course, than the protocol that Boris Johnson put in place, a protocol which he spoke about and those things turned out not to be accurate.
"So he has a choice: he can be remembered for the great acts of statecraft that he achieved or he can risk looking like a pound shop Nigel Farage.
"I hope he chooses to be remembered as a statesman."
Mr Baker also addressed arguments made by Mr Johnson and Liz Truss's allies that the Northern Ireland Protocol Bill — legislation that would have unilaterally overwritten parts of the Brexit treaty with Brussels — should not have been dropped.
He said the Bill would have "wrecked" relations with the EU and "damaged our standing internationally".
"Now that was a price we were willing to pay to get just the kind of arrangements we now have in the Windsor Framework," Mr Baker said, as he urged Mr Sunak's predecessors to vote with the Government.
The minister said the UK Government did not expect to be relying on Opposition MPs to win the vote on the framework.
Labour is set to back the accord in the face of a growing Tory rebellion.