More than a third of flights to and from UK airports last year were delayed, new figures show.
The Civil Aviation Authority (CAA) said an "unacceptable" 37% of flights were at least 15 minutes late in 2022.
That is up from 17% in both of the preceding two years and 25% in 2019, before the coronavirus pandemic affected air travel.
Flights last year were delayed by an average of 22 minutes, which is 60% longer than in 2019.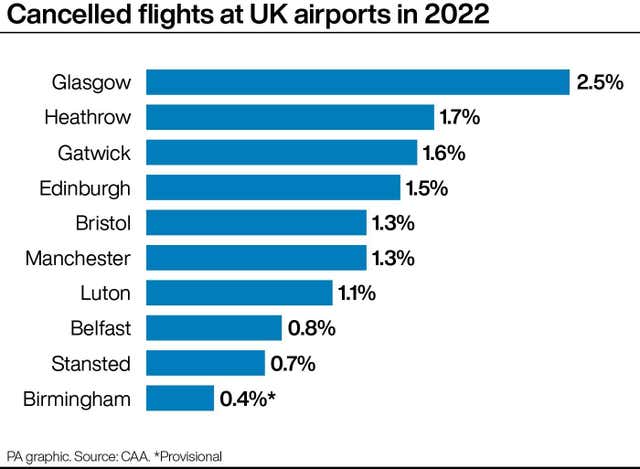 Among the 10 busiest UK airports, Glasgow had the highest proportion of cancelled flights at 2.5%, followed by London Heathrow with 1.7%.
More than 224 million passengers travelled through UK airports last year.
This was more than three times higher than the figure for 2021 but was just three-quarters of pre-pandemic levels.
CAA head of consumers Anna Bowles said: "More than three times as many people flew into and from UK airports last year compared with 2021, demonstrating a clear wish by consumers to return to travel as Covid restrictions were lifted, and giving industry a well-needed boost after a difficult few years.
"That bounceback in passenger numbers was at times overshadowed by the challenges that the aviation sector faced in the early summer of 2022, which saw an unacceptable level of flight cancellations and delays.
"We expect to see increased resilience and continued improved performance by airlines in 2023, giving passengers the experience they expect and the confidence to continue to return to travel."
Rocio Concha, director of policy and advocacy at consumer group Which?, said: "These dreadful performance figures will be unsurprising to anyone who endured the widespread chaos at UK airports last year.
"Which? has received hundreds of testimonies from travellers left high and dry by airlines when their flights were cancelled or delayed, from people abandoned in airports to seek emergency accommodation and alternative flights home, to those still chasing compensation months later.
"Airlines' unacceptable treatment of passengers cannot be allowed to stand.
"We are calling on the Transport Secretary to act without delay and give the Civil Aviation Authority the powers it needs to fine airlines when they break the law and fail in their responsibility to passengers."
A Department for Transport spokesperson said: "It's vital passengers feel confident when flying and if flights are disrupted, airlines are responsible for issuing refunds and compensation where necessary.
"Our Aviation Passenger Charter provides passengers with information on their rights and we have consulted on a range of measures to improve passenger protections, including greater powers for the CAA."