UK inflation shot up unexpectedly last month as vegetable shortages pushed food prices to their highest rate in more than 45 years, according to official figures.
The Office for National Statistics (ONS) revealed Consumer Prices Index (CPI) inflation rose to 10.4% in February from 10.1% in January.
Most economists were expecting CPI to fall to 9.9% in February.
The ONS said price inflation of food, including non-alcoholic drinks, raced higher to 18.3% from 16.8%.
Shortages of vegetables such as tomatoes and peppers in recent weeks were largely behind the rocketing food inflation.
Chancellor Jeremy Hunt said: "Falling inflation isn't inevitable, so we need to stick to our plan to halve it this year"
The data adds to the headache for the Bank of England ahead of its decision on interest rates on Thursday, with policymakers already facing a dilemma given recent turmoil in financial markets and fears of a banking crisis.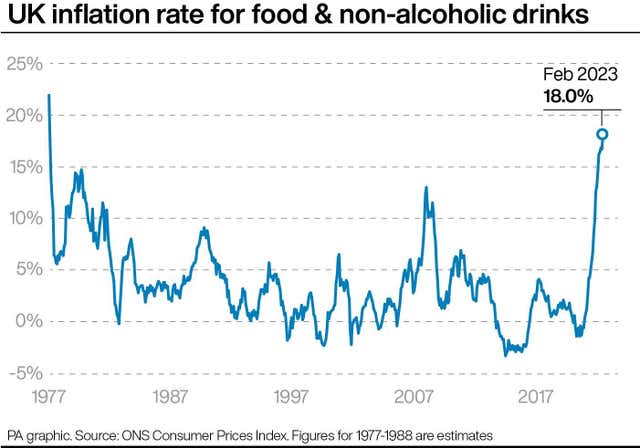 The latest data showed that soaring prices of drinks in pubs and restaurants also drove inflation higher, coming after discounting in January and as the hospitality sector looks to offset sky high energy and staff bills.
Inflation overall in restaurants and cafes stood at 11.4% last month, up from 9.4% in January and the highest since December 1991.
ONS chief economist Grant Fitzner said: "Inflation ticked up in February mainly driven by rising alcohol prices in pubs and restaurants following discounting in January.
"Food and non-alcoholic drink prices rose to their highest rate in over 45 years with particular increases for some salad and vegetable items as high energy costs and bad weather across parts of Europe led to shortages and rationing.
"These were partially offset by falls in the cost of motor fuel, where the annual inflation rate has eased for seven consecutive months."
It confirms that the pressure of the cost of living crisis is far from over for British households and businesses.
However, economists still believe stubborn inflation will begin to ease again this year.
The UK fiscal watchdog, the Office for Budget Responsibility (OBR) last week cut its forecasts for inflation, predicting CPI would end the year at around 2.9%.
Motor fuel prices are falling – with the annual rate dropping to 4.6% in February from 7.7% in January.
The ONS said average petrol and diesel prices stood at 148.0p and 169.5p a litre respectively, in February 2023, compared with 147.6p and 151.7p a litre a year ago.
Alpesh Paleja, the CBI's lead economist, said that "while inflation rose in February, the outlook for the months ahead is looking more benign".
"But while we expect inflation to fall back over this year, the firmness in domestic price pressures is something that the Bank of England will be keeping a close eye on.
"And despite further falls over the coming months, this year will still be a high-inflation environment for both households and businesses."
The latest data also showed rises in the CPI measure of inflation including housing costs (CPIH), up to 9.2% in February from 8.8% in January, while the Retail Prices Index (RPI) leaped to 13.8% from 13.4% in January.