The King has spoken of his desire to visit Ukraine after being presented with a painting of the country's golden fields and blue sky.
Charles admired the artwork by 16-year-old Ukrainian Sofia Franchuk during a visit to open the global headquarters of the European Bank for Reconstruction and Development (EBRD) which has invested heavily in Ukraine.
Hundreds of Ukrainian children have begun painting as part of the Kids and Art for Ukraine project, which provides humanitarian and educational support, and its organisers put on a display of some of their work for the King.
After speaking to the King she said: "He said he wanted to be able to thank the young girl, he also said 'before I'm too old I want to come and visit your country'."
The 16-year-old painter lives in the historic town of Tarashcha, around 100 miles south of the capital Kyiv, and although she took up her brush and paints in the cold month of January, her inspiration was a summer scene.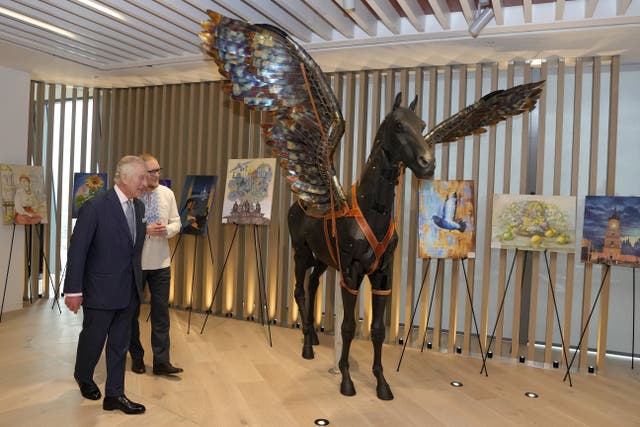 He received a briefing from a senior bank executive from Turkey, about the latest situation following the recent devastating earthquakes, and also an update from another executive from Ukraine before joining a private boardroom meeting.
As Prince of Wales, Charles opened the bank's previous headquarters in the City of London in 1993, almost 30 years ago to the day.
Since then, the bank has expanded into new regions and is now active in 36 economies across three continents and has invested over 180 billion euros.