The latest Bank of England base rate rise is another "body blow" to household finances, according to a debt help charity.
StepChange said that 17% of its new clients are already in arrears with their mortgage.
Peter Tutton, head of policy at StepChange Debt Charity, said: "Another rate rise, alongside this week's news of rising inflation, is the latest in a succession of body blows to household finances."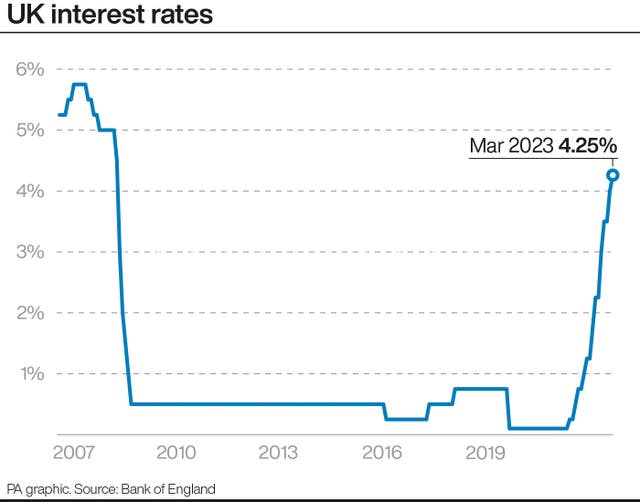 "Don't wait to contact your lender or speak to a reputable free debt advice charity like StepChange. We are here to support you."
Mortgage borrowers on deals which track the Bank of England base rate will now see nearly £24 per month added to their costs on average, following Thursday's rate hike.
According to figures from trade association UK Finance, the latest Bank of England base rate increase, from 4% to 4.25%, will typically add £23.71 per month – or more than £284 per year – to the cost of a tracker mortgage.
Borrowers on a standard variable rate (SVR) meanwhile will see their costs increase by £15.14 per month – or more than £181 per year – on average if the rate hike is passed on by their lender.
Homeowners end up on SVRs when their initial deal comes to an end and the SVR is set by individual lenders.
UK Finance's figures are based on average outstanding balances and payments.
It calculated that, since December 2021, the average tracker mortgage payment will have increased by £393.65 per month – or around £4,724 per year.
The average SVR will have increased by 251.34 per month, or £3,016 per year, assuming base rate hikes are fully passed on.
Around eight in 10 residential mortgages outstanding are on fixed rates, cushioning homeowners from the immediate impact of base rate hikes, although borrowers may get a bill shock when their fixed deal ends and it is time to remortgage.
Paul Broadhead, head of mortgage and housing policy at the Building Societies Association (BSA) said: "There are around 1.8 million households coming to the end of a fixed rate in 2023 and most will see a significant increase in their mortgage costs.
"Only time will tell whether these increases have already been factored into household financial planning. Lenders remain alert to borrowers facing a payment shock and are ready to offer tailored support to anyone who may be struggling."
Richard Donnell, executive director of research at property website Zoopla said: "We don't expect the increase in the base rate to make much difference to the outlook for the housing market.
"Demand for homes is down on last year but sales are still being agreed albeit at a slower rate.
"People still want to move and households are resetting their plans in an environment of higher borrowing costs. Talk of a big price correction in home values has been overplayed and if you price your home sensibly, it's likely to attract interest, subject to some negotiation on the final price."
The latest base rate increase is the 11th in a string of rises, adding to borrowers' costs.
Consumer group Which? highlighted how renters may feel the impact of the base rate hike on their housing costs.
Sam Richardson, Which? Money deputy editor, said: "Higher rates will also have an impact on renters, as buy-to-let landlords will likely pass on increased costs to their tenants.
"If you are unsure about how you will be able to make monthly repayments, contact your landlord or letting agent to see if a different payment plan is available."
Earlier this week, financial information website Moneyfacts said average two and five-year fixed-rate mortgages have edged down to their lowest levels in six months.
The rise in the base rate follows a surprise jump in Consumer Prices Index (CPI) inflation to 10.4%, although inflation is still expected to fall sharply over the rest of the year.
The Bank's Monetary Policy Committee (MPC) recognised the recent period of volatility in the global banking sector, after the collapse of the US's Silicon Valley Bank and the rescue takeover of Credit Suisse, but stood firm in its mission to bring inflation back down to its 2% target.
Andrew Montlake, managing director of Coreco Mortgage Brokers said: "They say a week is a long time in politics, but a day is an aeon in the financial markets.
"In the past few days, we have seen the contradictory effects of a banking drama pushing rates down on the one hand, and the surprise rise in inflation pulling in the opposite direction."
The base rate rise may give savers an added boost, with some rates on the market having already improved in recent months.
Rachel Springall, a finance expert at Moneyfactscompare.co.uk, said: "Savers may be pleased to see another rise to the Bank of England base rate, but they must take time to check their existing savings pots to see if they are earning a competitive return.
"Not every savings provider will pass on a base rate rise, so it's crucial for savers to ditch and switch if they find a better return elsewhere.
"If savers are comparing their easy access savings accounts, they will find challenger banks and building societies are offering some of the best returns."
She added: "Providers are continuing to improve their cash Isas, including easy access Isas.
"Keeping on top of the changing market is crucial for savers regardless of which type of savings account suits their needs."
Treasury Committee chairwoman Harriett Baldwin said loyal savers were being treated as "cash cows" by banks.
"But we've also noticed that for savers, the banks have been very slow to raise rates and there are still rates out there for less than 1%."
Mrs Baldwin added: "It is clear to us they are treating their loyal customers as cash cows here with rates going up. They gave us a range of excuses (why rates are not passed on to customers immediately) – I'm afraid they did not hold a lot of water with our committee."