The Prince of Wales has praised the resilience of young Ukrainian refugees living in Poland.
William, on the second day of his surprise trip to the country, visited the Hala Koszyki food hall in Warsaw to speak to those who have fled Ukraine.
The prince joined them at tables on Thursday afternoon and heard about their experiences settling into Polish life.
William told them: "It must be very difficult to start an entire new life in a new country.
He also spoke to people who have hosted refugees, and thanked them for their kindness.
The casually dressed prince was also greeted by well-wishers outside the venue and given flowers.
Three women held a sign reading: "Thank you for the visit William."
One of them, Olga Mieszejewska-Buchalik, who travelled three hours from south Poland, told reporters: "I said that we really appreciated his support for our nation and Ukraine."
Vonya Bultruski, 26, who spoke to the prince, told the PA news agency: "I told him how much his support for refugees means, he's a very kind man.
"I'm very happy to see him in Poland, it is a big moment for my country."
Marta Galinska, 47, a milliner, gave William a pink felt hat she made for the Princess of Wales.
A spokesperson for the prince said: "The conversation was warm and friendly, and predominantly focused on the ongoing conflict with the war in Ukraine, particularly its impact on Polish society.
"The Prince of Wales took the opportunity to thank the president and the Polish people who have done so much to support the people of Ukraine who've fled here.
"They discussed the importance of the need for ongoing support to Ukraine and its people.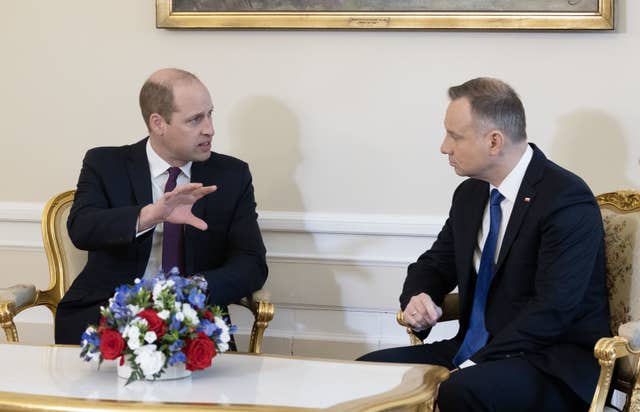 "He also thanked him for attending the late Queen's funeral."
William also echoed his late grandmother the Queen by laying a wreath at a monument dedicated to soldiers.
Queen Elizabeth II and the late Duke of Edinburgh did the same during their state visit to Poland in 1996.
William was greeted by a guard of honour and carried the assortment of flowers to the monument, spending around 10 minutes there before leaving.
William has said the two-day trip will allow him to personally thank troops and "underline" his support and gratitude for the Polish people who have aided Ukrainian refugees.
It came after he thanked British troops roughly an hour's drive from the Ukrainian border for "defending our freedoms" by "keeping an eye on" the situation in Ukraine.
After arriving at the defence military base in the south-eastern Polish city of Rzeszow on Wednesday afternoon, the prince, dressed casually in a black puffer jacket and trousers, was shown a missile launcher.
Speaking to the soldiers, he said: "I just wanted to come here in person to say thank you for all that you're doing, keeping everyone safe out here and keeping an eye on what's going on.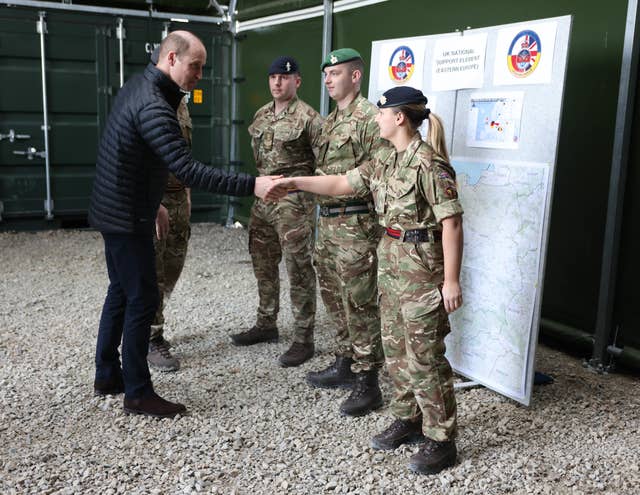 He added: "You're doing a really important job out here and defending our freedoms is really important, and everyone back home thoroughly supports you."
It is his first trip to Poland since he visited in 2017 with his wife Kate.