Teachers miss funerals and go to work sick to ensure they are present for Ofsted inspections, a former teacher has said at a vigil for late head Ruth Perry.
Amanda Bentham, who used to teach in Tower Hamlets, east London, has also seen pupils with poor academic results asked not to attend school on inspection days.
Ms Bentham told the PA news agency that she had "sleepless nights" over the watchdog's inspections when she was teaching.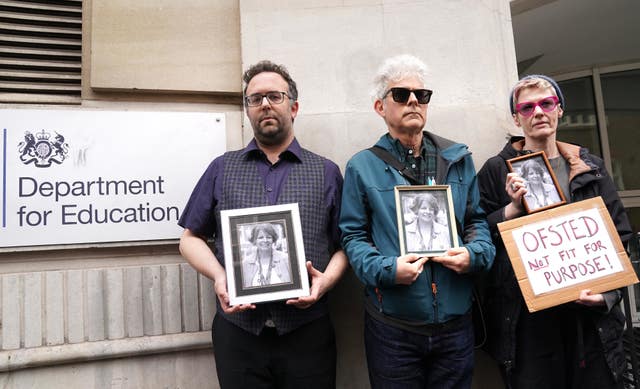 "I've seen pupils being taken out of school or asked not to come in because perhaps their behaviour or their results are not what the school wants Ofsted to see."
She told PA that "everyone" who has ever worked in a school has felt the pressure of inspections.
The former teacher, a member of the National Education Union (NEU), called Ofsted a "toxic body" and supported the union's petition calling for the watchdog to be replaced by a fairer system.
"That really doesn't engender trust among the staff. They don't feel that a person who doesn't trust the community that they are walking through to get to the school can possibly really have a valid judgment on the school," Ms Bentham added.
James Denny, a parent from Reading, organised the vigil but did not know Ms Perry.
He told PA he knew of a teacher suffering a stroke following an Ofsted inspection.
He added: "Nowadays the regime is just intolerable, and it causes our school leaders and our school teachers to be in school for vast numbers of hours. They have to neglect themselves, they neglect their families just to get their school right for the Ofsted inspection."
Mr Denny also said he knows "former inspectors of Ofsted" who are saying that "change is due".
She told PA that mentioning the word "Ofsted" to teachers, school leaders or pupils will generate fear and anxiety.
"If you mention the word Ofsted, even to children, if you mention the word Ofsted to seasoned professionals, people who have been teaching for 20 years, there is a physical and an emotional reaction to that," she said.
"It generates fear, it generates anxiety. Teachers and school leaders have sleepless nights about a judgment, a one-word judgment over a two-day period that can end their career and label a school community."
The NEU is calling for Ofsted to be "dismantled" and replaced by a "whole new system".
It states that teachers and school leaders work under a "shadow" cast by the watchdog and that the workload generated by Ofsted is a "major factor" in "appalling" teacher retention rates that "blight" English education.
– For anyone who needs help, Samaritans can be contacted for free on 116 123, emailed at josamaritans.org, or visit http://www.samaritans.org to find your nearest branch.