Business campaigners have warned over business failures and job losses if companies follow the Bank of England chief's suggestion not to raise prices above inflation.
Governor Andrew Bailey asked retailers to think twice before setting prices above the rate of inflation because it risks embedding higher prices into the economy.
In an interview with BBC Radio 4's Today programme, Mr Bailey said higher inflation "hurts people and it particularly hurts the least well-off in society".
He asked retailers that set prices to bear in mind that inflation is set to drop sharply this year.
Kate Nicholls, chief executive of UKHospitality, which represents more than 750 companies with around 100,000 venues, said she supports the objective of reducing inflation, which is in everyone's best interests.
But she added: "To suggest that the sector should stomach these staggering cost increases ignores the real and stark situation facing venues across the country.
"It is simply impossible if we want to have a viable hospitality sector left in a year's time.
"No business wants to raise its prices, for fear of losing sales. We all want prices to be as low as possible for consumers, and it is a minor miracle that many have held off increases for as long as they have.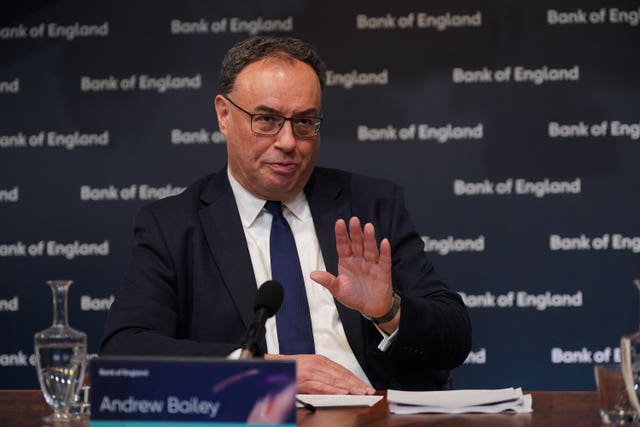 The remarks come after UK Consumer Prices Index (CPI) inflation unexpectedly jumped in February, to 10.4% from 10.1% in January, driven by decades-high food prices.
Dairy products are among the food items that have shot up in the price, with low-fat milk surging by 42% in the year to February, cheese by 35%, and eggs by 32.5%.
There were other factors behind the leap in CPI, with the Office for National Statistics noting the rocketing cost of alcoholic drinks in pubs and restaurants after discounts in January.
The Bank's Monetary Policy Committee voted to increase interest rates to 4.25% from 4% on Thursday, as it tries to put a lid on inflation.
Unite's general secretary Sharon Graham said: "Andrew Bailey's lacklustre acknowledgement of the role price rises are having on inflation is a step forward after years of targeting workers.
"However… the UK is in the grip of a profiteering epidemic – it is greedflation, not workers' wages, that is fuelling the cost-of-living crisis."
Mr Bailey was previously criticised for suggesting workers should avoid asking for inflation-matching pay rises because it helps to lock higher inflation into the economy.
Downing Street on Friday said it is for individual companies to make their own pricing decisions, when asked about Mr Bailey's remarks.