A cash-in-transit driver who handcuffed himself to his security van's steering wheel in a faked armed heist of almost £1 million has been jailed for four years and 10 months.
Andrew Measor, 51, waited for two hours before using his nose to dial for help after helping mastermind Stefanos Cantaris, 40, steal £920,000 in banknotes.
Southwark Crown Court heard Measor, who had worked for cash-handling firm Loomis for three years, was the "inside man" in the fake armed robbery in Ilford, east London, on December 30 2021.
CCTV footage released on Friday shows masked men loading chequered laundry bags filled with cash into a white Vauxhall Combo van during the theft.
Measor handcuffed himself to his security van's steering wheel and waited for two hours to raise the alarm at the depot in Dagenham, east London.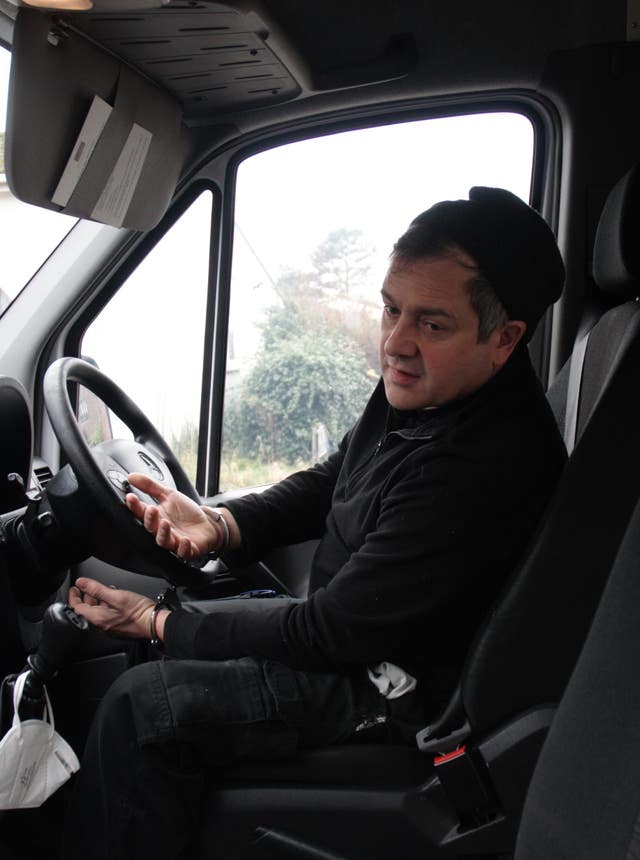 To bolster the claim, a "charade" of the so-called "Tiger kidnap", involving a man wearing a latex mask, was carried out outside his front door and captured on his doorbell camera.
Judge Dafna Spiro told them: "This was not, as you say, a Tiger kidnap. It was a well-planned, sophisticated, heavily orchestrated theft in which you, Mr Measor, were a willing participant and you, Mr Cantaris, organised, planned and supervised. You were both in this together."
She added that Measor knew "exactly what was going on" because he was the "inside man" being directed by his co-defendant.
She told him: "You have been let down by your poor decision making and greed which in the end bought you nothing, not even a single note but has bought misery on all those around you."
She told Cantaris: "You have chosen to take advantage of others' gullibility.
"Mr Measor is not an angel but he was bought in and charmed by you.
"I am sure you would make a fantastic salesman if you do honest work in your life and are able to make a good living."
Measor, from Loughton, Essex, was found guilty of conspiracy to commit theft and conspiracy to pervert the course of justice last month after a trial.
Cantaris, from Epping, Essex, pleaded guilty to theft and was found guilty of conspiracy to pervert the course of justice.
He was jailed for five years and four months at the same court.
They were both cleared of conspiracy to launder money, which has not been recovered.
Luke Ponte, defending Measor, said the father-of-two was promised £100,000 for his role but had "not seen a £5 note".
"He is not a criminal mastermind. He is a weak-willed man who should not have got involved in this but did," Mr Ponte added.
The court heard that Cantaris, who has a previous conviction for assaulting a police officer, masterminded the plot and met Measor on numerous occasions in the months leading up to the theft.
Described as a "very likeable and charming man", Cantaris got "burner" mobile phones and "organised the mission", the judge said.
The hearing was told his spending was not "that of someone who struggled to make ends meet" and last year he travelled to Columbia, Ibiza, Dubai, Portugal, Morocco and other destinations.
He could also afford Rolex watches and a £3,000 stay at the Atlantis hotel in Dubai.
Prosecutor Catherine Farrelly earlier told the jury the raid was carried out "with the assistance and full participation" of Measor.
"They sought to hide this by faking a robbery," she said.
"They have then, to the most part, successfully hidden the money that was stolen."
After the heist, Measor was signed off work on full pay and was provided with counselling for post-traumatic stress for months until he was arrested.
In messages to friends, he boasted of "milking" his employer and said it was "defo an inside job".
The court heard that Loomis drivers felt vulnerable after the theft, believing they and their families could be targeted next.
Five other men were cleared of having any involvement in the plot.
Confiscation proceedings will take place later.