The late Queen's closest adviser, Angela Kelly, has been recognised by the King alongside other royal aides, and many who played important roles during her funeral.
Ms Kelly and other devoted royal household staff were named as recipients of honours under the Royal Victorian Order (RVO) in recognition of their service to the Queen, as part of a special set of Demise awards.
The honours list also featured RAF flight crew who transported the Queen's coffin from Scotland to London, coffin bearers, senior managers from the household and Government, and the late Queen's stud groom Terry Pendry, who held the reins of the monarch's pony Emma as the funeral cortege entered Windsor Castle.
Ms Kelly, the late Queen's personal assistant, adviser and curator, worked for the monarch for more than 25 years and was made a Commander of the RVO.
A bubbly and hard-working royal aide, she kept the Queen's style relevant and even added a touch of bling during the decades she worked for the head of state.
The Queen valued the opinion of her meticulous personal assistant and gradually over the years gave her free rein when helping her create a look for an event.
Despite the late monarch's advancing years, she had been prepared to embellish her style – under Ms Kelly's direction – as a nod to modern times.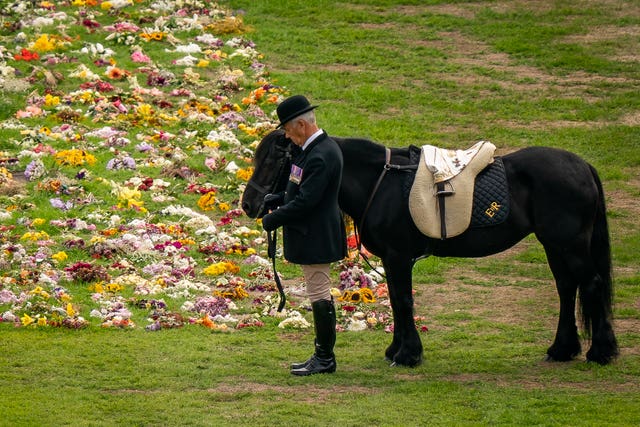 During lockdown, when the Queen isolated with a small group from her household dubbed "HMS Bubble", Ms Kelly was thought to be part of the team.
She once disclosed in an interview: "We are two typical women. We discuss clothes, make-up, jewellery."
Mr Pendry who was pictured with his head bowed standing beside the Queen's pony as the monarch's coffin entered Windsor Castle's quadrangle was made a Commander of the RVO.
Also recognised were the Marquess of Cholmondeley, formerly Lord Great Chamberlain, Royal Household, who was made a Knight Grand Cross of the RVO, while former ladies-in-waiting to the Queen, Philippa de Pass and Jennifer Gordon Lennox, were made Dame Commanders.