Ukraine is ready to send its pilots to be trained in using Western fighter jets, the chairman of the war-torn nation's parliament said, after Ukrainian soldiers completed training on Challenger 2 tanks in the UK.
Ruslan Stefanchuk said that once his country "gets the wings", it can attain "joint victory for Ukraine and the world", in language echoing that of Volodymyr Zelensky's rousing speech to Parliament last month.
The Ukrainian president has repeatedly asked Western countries for warplanes in the struggle against Russia's invasion.
Addressing a group of MPs and peers in Speaker's House on Monday, Mr Stefanchuk said through a translator: "We are ready for more intense training of Ukrainian servicemen.
"We're ready to send our pilots to be trained in fighter jets."
Mr Stefanchuk thanked Britain for sharing its "knowledge, experience in skills", after UK military officials spent several weeks instructing Ukrainian soldiers how to operate and fight with the Challenger 2 tanks.
He also thanked the UK for its decision to send 14 of the tanks and paving the way for other nations to follow suit.
"Today is the time for Britain to become a leader to also open the door to use aircraft and long-range rockets," he said.
The head of Ukraine's parliament urged the UK to back Ukraine's Nato application because it is already a "de-facto part" of the alliance and protecting Europe from Russian aggression.
He called for the creation of a special tribunal to investigate Moscow's war crimes so that "Russia is recognised as a terrorist country".
"We want to use all the legal mechanisms to make sure Russia is defeated legally, held accountable for all the crimes they commit in Ukraine," he said, adding that the crimes are "not real if they are not prosecuted".
He asked the UK to recognise the 1933 Holodomor man-made famine in Soviet Ukraine as genocide, saying it is "connected" to today's crimes.
Mr Stefanchuk said his visit is important so parliamentarians can "hear from the horse's mouth" what is happening on the ground, countering Russian propaganda which is a "weapon similar to that used on the battlefield".
Commons Speaker Sir Lindsay Hoyle welcomed his Ukrainian counterpart to Westminster, telling him: "Our Parliament is your Parliament."
"Ukrainian politicians play a vital role in serving their people and telling the world the reality of war," Sir Lindsay said.
"We are a friend that will listen, we are a friend that will support and continue to support."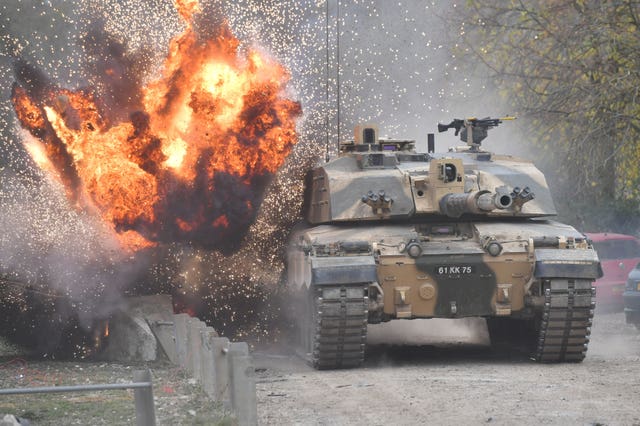 Defence Secretary Ben Wallace said the Ukrainian soldiers "return to their homeland better equipped, but to no less danger".
The MoD described the Challenger 2 vehicles as a "step change in capability" for Ukraine's armed forces, saying the machines would offer them some of the most modern and sophisticated gunnery systems in the world.
The Ukrainian troops will return with the Western tanks in time for a reported spring counter-offensive by Kyiv that is said to be in the works.
With the US supplying Abrams tanks, and Germany and other European allies providing Leopard 2 tanks, any strike on Russian lines is expected to involve the Western tanks manned by Kyiv's forces.