Rishi Sunak promised to tackle the "scourge" of drugs, as he unveiled new measures to crack down on anti-social behaviour.
The Government has pledged new moves that will see trials of swifter justice measures and increased policing in areas of England and Wales deemed to have high amounts of low-level crime.
The plan, announced by the Prime Minister during a visit to Essex on Monday, also includes a ban on the sale of laughing gas against the advice of official government advisers.
Mr Sunak, who stressed the importance of "strong communities built on values", said anti-social behaviour is "not the type of country that we are and that is why it is important we do something about it".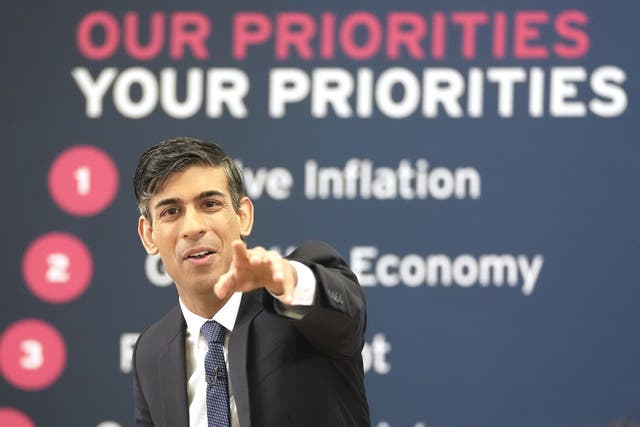 Current legislation already prohibits the knowing or reckless supply of nitrous oxide for inhalation.
But the Government plans to make it a Class C drug, according to its anti-social behaviour action plan, which could see users facing up to two years in jail and unlimited fines.
Ministers hope to ban nitrous oxide before the end of the year.
It goes against recommendations from the Advisory Council on the Misuse of Drugs, which recently concluded it would be disproportionate to bring in an outright ban.
David Badcock, chief executive of the Drug Science scientific committee, told the PA news agency: "It won't stop young people using it – banning any substance just drives it into criminal hands and the inherent risks associated with the black market come into play. I don't think it will stop people doing it."
Asked about the decision to go against the advice of the drug advisory panel, the Prime Minister's official spokesman said: "We think that not only are drugs a scourge on society, they have a wider societal impact.
"The use of nitrous oxide in these circumstances can ruin a neighbourhood, can make people feel unsafe and that is why the Prime Minister thinks it is right to take these steps.
"Nitrous oxide, on an individual level, is now the third most used drug amongst young people. It has psychoactive effects, the ACMD themselves reported links between it and drug driving, littering and neurological harms."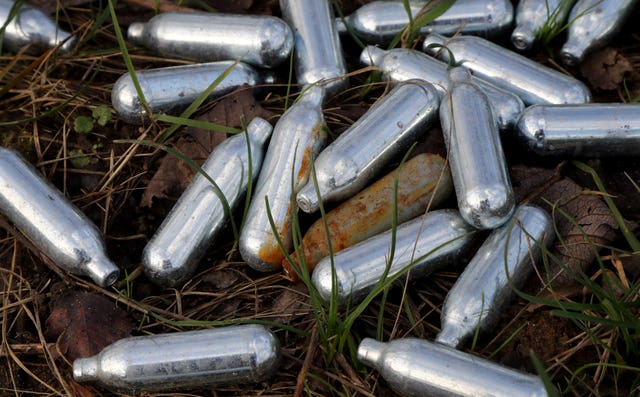 So-called Immediate Justice proposals will aim to see perpetrators behind anti-social activity carry out repair and clean-up works within 48 hours of being handed community orders.
Offenders will be made to wear hi-vis vests or jumpsuits and work under supervision while picking up litter, removing graffiti and washing police cars as punishment for their actions.
Victims of anti-social behaviour will be given a say in how criminals are disciplined to ensure justice is visible and fits the crime, according to the Department for Levelling Up, Housing and Communities.
In what is being called Hotspot Policing, some areas will trial having enforced police patrols.
Other measures include:
– A reporting tool for the public to log anti-social behaviour and receive updates on any action to tackle it.
– Increased fines for graffiti and littering, rising to up to £500, and up to £1,000 for fly-tipping.
– Landlords and housing associations being given more powers to evict unruly tenants who create persistent noise.
– Reopening empty shops by giving councils new powers to quickly take control and sell off empty buildings.
– Setting up an anti-social behaviour taskforce jointly led by the Home Secretary and Levelling Up Secretary.
Mr Sunak dedicated a portion of his New Year speech, setting out his five pledges ahead of the next election, to his ambitions to tackle anti-social behaviour.
According to Government figures, last year saw 1,500 offenders spend almost 10,000 hours on 300 community clean-up projects, with plans to double that this year.
"It should be easy for you to say this is what I've seen, this is what's going on and then have the local authorities and the police report back on what they've done about it so that you feel that your concerns are being listened to," Mr Sunak said on Monday.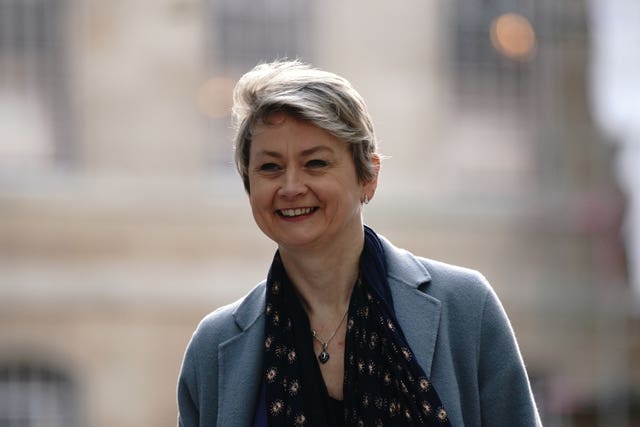 "Over the last 13 years the Conservatives have decimated neighbourhood policing and youth services and weakened anti-social behaviour powers so they are barely used," she said.
"There are still 10,000 fewer neighbourhood police and PCSOs on our streets than there were seven years ago.
"A few hotspot pilots is nowhere near enough to turn that around. We need guaranteed neighbourhood patrols and action in all areas or this is just yet more empty rhetoric."
Policing minister Chris Philp defended the laughing gas ban by arguing that its use is becoming "extremely widespread".
"There is some emerging evidence of physical medical harm. There have been some reports recently of paralysis being caused by large-scale use," he told Times Radio.
The Government's 41-page action plan said: "We recognise there are many legitimate uses of nitrous oxide, and we do not want to hinder responsible medical, industrial and consumer use.
"We will consult on the ban of nitrous oxide and how best to protect people and communities from the harmful effects, while exempting legitimate uses so as to minimise the burdens on businesses."