The tight result in the SNP leadership race has vindicated the warning that "continuity won't cut it", candidate Kate Forbes said.
Ms Forbes narrowly missed out to Health Secretary Humza Yousaf in their fight for the top job, taking 48% of the vote in the second round of ballots.
Speaking to journalists immediately after the result was announced, Ms Forbes said she would back the likely first minister – who faces a vote of MSPs on Tuesday to usher him into Bute House.
"If we are to continue to win elections, we need to continue to listen and maintain trust."
The Finance Secretary, who caused controversy when she said in the early days of the campaign she would not have voted in favour of equal marriage legislation, insisted the comment had no impact on the outcome.
"I think it was important that in this contest there was a real diversity of candidates and the members have made their views known and I think that in any contest you need to have space for robust, frank exchange because if you don't then ultimately you aren't able to have that battle for ideas that ultimately improves decision-making," she said.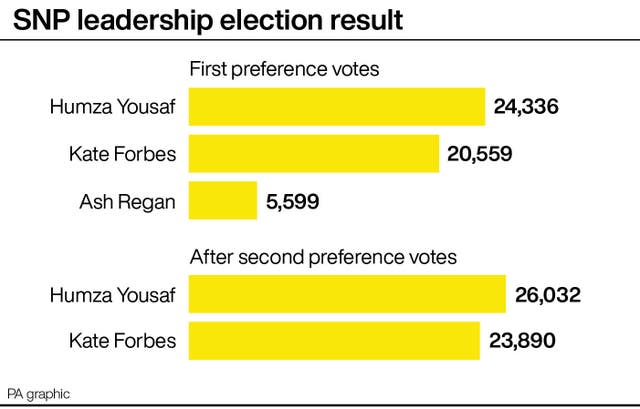 Mr Yousaf's pledge to meet with his fellow leadership rivals "was an important indication of the way he wants to govern", Ms Forbes said.
She added: "I certainly will be working with him in order to progress plans to serve the people of Scotland."
The Skye, Lochaber and Badenoch MSP – currently on maternity leave until April – refused to say if she had any regrets regarding her campaign, saying: "The SNP members have had a real choice when it comes to candidates and I've said throughout the contest that I am a democrat, so I absolutely respect the decision that members have made.
Ms Forbes rejected the assertion the party was divided – despite the close vote – describing it as "united as one, standing together to serve Scotland", but she added: "Unity is not uniformity."
Asked if she could serve in Mr Yousaf's cabinet, the Finance Secretary said: "Humza has won, so it's for Humza to appoint his cabinet and I, like any other MSP, look forward to supporting him in any way possible."