A High Court case has started without Irish teacher Enoch Burke after he did not agree to comply with the authority of the court.
Mr Burke had represented himself in the case taken by his former employer, Wilson's Hospital School in Co Westmeath, as part of a dispute over how a student who was transitioning gender should be addressed.
The court heard that Mr Burke is taking a counter-action against disciplinary proceedings issued against him by the school, as well as his suspension and subsequent dismissal.
During the morning session, Mr Burke had continuously asked the court to take action on an issue he raised about access to evidence, despite the fact that the matter had been ruled on by the judge.
After an hour and a half of back-and-forth between the presiding judge and Mr Burke, the court ruled that as he had been "continuously" in contempt of court, Mr Burke would not be allowed to return when proceedings resumed in the afternoon.
Mr Justice Alex Owens said Mr Burke would be able to watch proceedings by videolink.
After recess, Mr Burke attempted to return to the courtroom but was prevented from entering by four gardai, acting on an order of the court.
When the case resumed, Mr Burke's sister Ammi told the hearing he wanted to address the court. The judge said Mr Burke could only address him if he was willing to obey the rules of the court.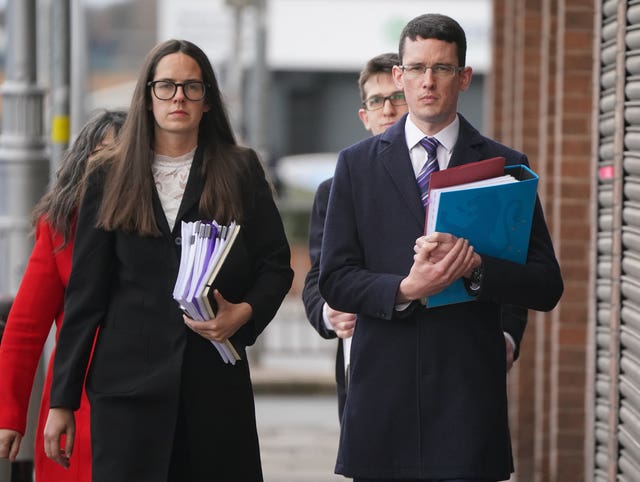 Ms Burke replied "are you denying Mr Burke justice then?", prompting a sigh in the courtroom.
The judge said Mr Burke would have justice, but it required his "co-operation".
After Ms Burke held discussions with her mother Martina and brother Isaac, she asked if Mr Burke would only be allowed back into the courtroom if he engaged in "falsehoods".
The three members of the Burke family then left the courtroom. "Oh there they go," the judge remarked as they left.
In Mr Burke's absence, Mark Connaughton SC, acting on behalf of the school, delivered his opening arguments and said the school's then-principal is to give evidence.
In relation to the email sent from the principal in May 2022, which said a student was to be addressed in "neutral" terms, Mr Connaughton said the school had been "over this territory once before" and "had taken some advice on how it should deal with the matter".
He added that the school was not on a mission to promote a certain world view, or to challenge Mr Burke's beliefs, but was "simply trying to fulfil its obligations to one student in the development of their education".
He added that Mr Burke was always given an option to engage, both in the courts and with the school.
"That isn't his way, that isn't what he chose to do," he said.
Earlier on Tuesday, Mr Justice Owens dismissed what he called "flimsy" and "stupid" arguments from Mr Burke, who claimed a document from a book of evidence supplied by the school's legal team had been "tampered with" and "surreptitiously erased".
Mr Burke argued that the matter concerned "the whole chassis of the case", and also complained of WhatsApp messages being typed out, instead of in the form of screenshots.
"I am bringing this to your attention now, it is misleading the court," Mr Burke said.
During one exchange, the judge rebuked Mr Burke over the way he was addressing him.
"I'm not going to be cajoled by litigants, or barristers on behalf of litigants," the judge said, adding that he would "come down very heavily" on those who show disrespect in the courtroom.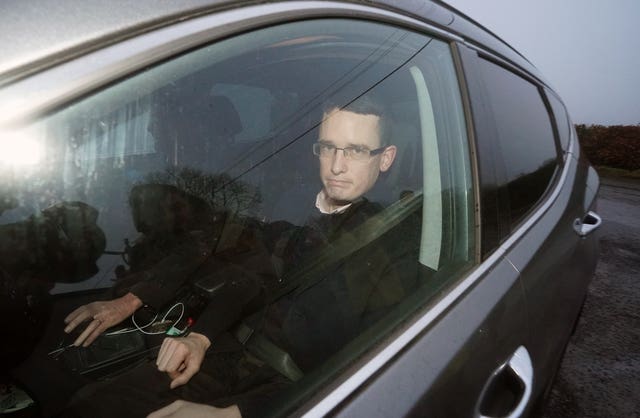 "The case should not be further delayed," Mr White told the court.
"There's no fraud, there's no tampering – Mr Burke is very quick to assign base motives to people in matters that don't suit him."
Mr Justice Owens ruled that he was not prepared to say there had been deliberate tampering, adding that this was "most unlikely" as both sides had the original document.
The judge also said he was "wary" of Mr Burke's request for screenshots of WhatsApp messages as they should have been requested prior to the evening before the trial.
He also raised concerns about the minutes of meetings of the board of the school being sought that may not be relevant to the case.
"This isn't really a basis upon which there should be a delay of proceedings," he said, adding that he could not see how Mr Burke had been inconvenienced or how he himself had been misled, and calling the arguments put forward "flimsy".
Mr Burke continued to address the court on the matter several times, despite the judge's objections that he had already ruled in the case.
When Mr Burke continued, the judge dropped his head in both his hands.
"I'm going to invite Mr White or Mr Connaughton to simply talk over Mr Burke," he said.
In the following exchange, the judge told Mr Burke there was no indication that he was "going to pay a blind bit of notice of what I do".
When Mr Burke referenced the four-day trial, the judge remarked: "You've wasted a day of it with stupid arguments already."
Mr White said that if Mr Burke outlines his concerns about aspects of the book of evidence, it can be dealt with as a matter in dispute between the two parties.
He added that he had offered to deal with the concerns raised by Mr Burke, despite not believing there was much to it, but told the court Mr Burke's aim was to "torpedo" proceedings.
When Mr Burke offered to go through his concerns again, the judge said: "No, no, no," prompting laughter in the courtroom.
Mr Connaughton added that he had watched Mr Burke's appearance before the Court of Appeal, where he was repeatedly asked if he would comply with orders of the court, to which "he absolutely refused to do so".
"He will not behave himself properly in court, he will not allow this case to run properly," he said.
"The court has gone out of its way to move the matter forward, Mr Burke won't have any of this, this is how he behaves."
"You're the author of your own misfortune," the judge said, after ruling that Mr Burke should not be allowed to return to the courtroom after recess. "I'm afraid it's bye-bye to you."