Humza Yousaf has the "power to govern" without an election, his campaign manager has said as he faces calls for a ballot from opposition parties.
The new SNP leader is expected to be voted into the post of Scottish first minister by MSPs on Tuesday afternoon, becoming the youngest person to hold the position and the first from an ethnic minority background.
Scottish Labour leader Anas Sarwar has called for Mr Yousaf to go to the country in a Holyrood election, claiming he does not have a mandate.
Rejecting the idea, Neil Gray – Mr Yousaf's campaign manager and a key supporter – said the new leader already has the "power to govern".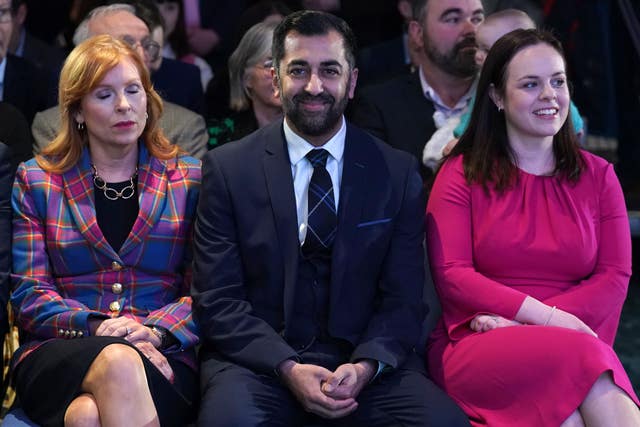 "This is a different situation than what we faced when Gordon Brown took over from Tony Blair, for instance, where there wasn't an election or, indeed, the various Conservative leaders who have been elected by the party over the last few years.
"I think Humza has a very clear mandate, I think that will be earned by his election today, and he absolutely has the power to govern going forward."
Support from the Scottish Greens in Holyrood – pledged in the hours after Mr Yousaf's victory – is expected to usher him into Bute House with little controversy.
Scottish Conservative leader Douglas Ross will be his party's nominee, and he told Good Morning Scotland that he would focus on the NHS, the cost-of-living crisis, the economy and education – while claiming Mr Yousaf has the "wrong priorities for Scotland".
One of the first big tests for Mr Yousaf is his approach to gender reforms passed by Holyrood but blocked by the UK Government in January.
He has repeatedly said he would challenge that move in court and seek to put the controversial Bill on to the statute book – although in the latter phases of the SNP leadership campaign he said he would not push ahead with a challenge if legal advice said it could not be won.
SNP Westminster leader Stephen Flynn, speaking to Sky News, described the move to block the Gender Recognition Reform (Scotland) Bill as a "democratic blocker", while his deputy Mhairi Black said the legislation is "not controversial", claiming "a lot of the criticisms of it, I think, are based on misinformation or people not having an idea of what the full picture is".
"This is something that is completely within the devolved capabilities and yet the UK Government and a Tory Government we have not voted for is telling us that they can dictate what laws we can make in Scotland, and I don't think that is right."
Mr Gray, who was singled out for thanks by Mr Yousaf in his acceptance speech and described as his "corner man", also told Times Radio: "I think there is an important principle at stake here.
"Of course he is going to listen to the legal advice – he has to do that – but there is an important principle at stake which is about the democracy and the democratic mandate given to the Scottish Parliament that must be defended.
"A two-thirds majority passed the Gender Recognition Bill in the Scottish Parliament.
"We must defend Scottish democracy and devolution. Otherwise, what is the point?"