Cabinet appointments are under way after Humza Yousaf was sworn in as the First Minister of Scotland.
Senior SNP MSPs have been filing into the First Minister's official residence at Bute House in Edinburgh on Wednesday morning to be appointed to the top jobs of government.
Education Secretary Shirley-Anne Somerville, Ukraine minster Neil Gray and Net Zero Secretary Michael Matheson have been seen entering the official residence, but it is not yet clear if they will be moving positions.
Mr Yousaf was sworn in at the Court of Session on Wednesday morning, making him as the first person from an ethnic minority background to hold the post, as well as the youngest.
Wearing a traditional Pakistani shalwar kameez and watched by his family from the public gallery of Scotland's highest court, Mr Yousaf took the three oaths of office, administered by the Lord President, Lord Carloway.
As he settles in for his first official day in Bute House, one person Mr Yousaf will not be appointing to his Cabinet is former leadership rival Kate Forbes, who is heading for the backbenches after turning down the post of rural affairs secretary – seen by many to be a demotion from her previous post in finance.
The move has endangered Mr Yousaf's attempts to bring together a party which has felt the full impact of a bruising leadership contest, which he won with a slim 52% to 48% margin over Ms Forbes.
She was on maternity leave when Nicola Sturgeon announced she would resign and throughout the leadership campaign, planning to return in the coming weeks.
Speaking on BBC Radio Scotland, Ms Robison said: "I understand that the discussion was very cordial and was very much centred on what Kate's thoughts were, and I think she had reflected upon how hard the campaign had been for family life and her desire for a better work-life balance and she decided that time out of the spotlight would be best to spend time with her family, which is understandable."
The First Minister did consider Ms Forbes for other positions, Ms Robison said, but ultimately she made the decision to go to the backbenches.
Ms Robison said during the leadership race she would have to consider whether she would want to serve under Ms Forbes, had she won the top job.
But she praised the former finance secretary, saying she has "great talents" and hoping she will consider a return to the frontbench.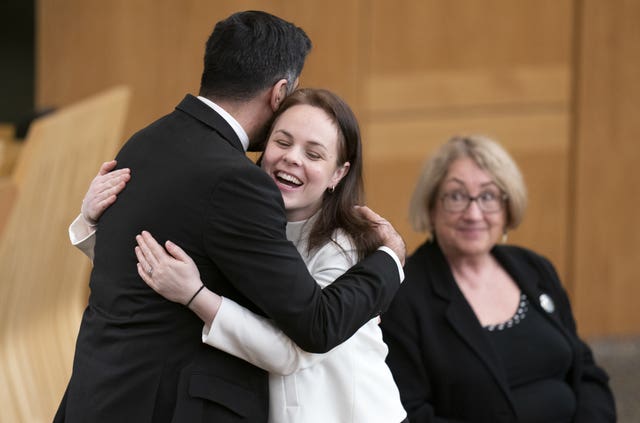 "I think what you'll see is a Cabinet that looks quite different and feels quite different," she said.
She rejected the assertion that means the Cabinet will lack frontline political experience, saying: "It will be a mix of the many skills and talents that the SNP parliamentary group has."
Ms Robison herself is likely to be given a Cabinet portfolio alongside her role as Deputy First Minister, as has been customary since the SNP took power, but she said she will not accept moving back to health – where she spent around three-and-a-half years.
"It's not a role I would take on again," she said.
"But I've been in Government for many years… nearly 16 years in Government, and I would want to bring that experience I've had in many roles to support the First Minister and to get down to business of the priorities that Humza Yousaf has laid out."