Humza Yousaf is to be legally sworn in as Scotland's sixth First Minister.
The ceremony at the Court of Session in Edinburgh will see the 37-year-old make his statutory declarations, after which he will be granted his official title of First Minister and Keeper of the Scottish Seal.
The ceremony comes after MSPs backed him to become Scotland's next leader, replacing Nicola Sturgeon after more than eight years in the role.
Mr Yousaf is the youngest person to hold the post and has made history as the first from a minority ethnic background to be appointed to the position.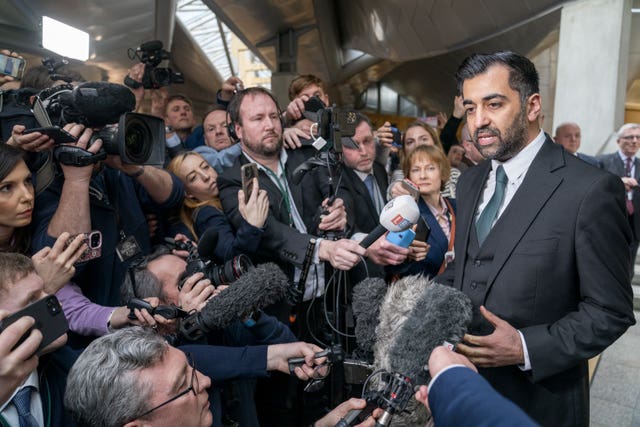 In the ballot of party members he won 52% of the votes, compared with her 48%, when second preferences were included.
Ms Forbes, who served as Finance Secretary under Ms Sturgeon, will return to the backbenches after she is believed to have turned down Mr Yousaf's offer of cabinet secretary for rural affairs and islands.
She said she will support Mr Yousaf, tweeting: "I have full confidence he will appoint a talented cabinet and ministerial team, able to meet the challenges facing the country."
On Tuesday Mr Yousaf won the votes of 71 fellow MSPs with members of the SNP and Greens backing his candidacy for First Minister of Scotland.
In his acceptance speech, Mr Yousaf said he had faced racist abuse until he "felt I simply did not belong here" and hopes his election to the top job in Scottish politics sends a "strong message" to people feeling the same.
He told the MSPs: "I've lost count of how many times my identity, my loyalty to Scotland – the only country I have ever and will ever call home – has been questioned over the years.
He said he will champion people who have felt the same and hopes his election "sends a strong message to every single person out there who feels that they don't belong".
He said: "No matter what anyone says, no matter who you are, whether Scotland has been your home for a day or for 10 generations, no matter your ethnicity, no matter your gender, no matter your religion, no matter your sexual orientation, your transgender identity or disability, this is your home and don't let anyone ever tell you that you do not belong."
On Wednesday at the Court of Session the Lord President, Lord Carloway, will administer the oath of office before another declaration to Mr Yousaf as Keeper of the Scottish Seal.
The seal allows the monarch to authorise official documents without having to sign each one.
As Keeper of the Scottish Seal, Mr Yousaf will have the authority to make decisions on behalf of the crown which effectively means the First Minister can lead the country with the support of the Scottish Parliament.
Finally, the Lord President will administer the declaration of allegiance to the King.