The King's historic state visit to Germany began with a formal welcome by the nation's president in the shadow of the Brandenburg Gate.
Charles and Camilla posed near the symbol of peace and unity as a handshake between the two heads of state heralded a deepening of the post-Brexit relationship between the UK and one of the EU's leading nations.
The use of Berlin's Brandenburg Gate as the backdrop for Charles and Camilla's official welcome to Germany was the first time the location has been employed to welcome any visiting head of state.
"It is a great joy to be able to continue the deepening of the longstanding friendship between our two nations."
The trip has been overshadowed by the postponement of the French leg of the European tour, which was shelved by President Emmanuel Macron last Friday after violent nationwide protests against the French leader's retirement age reforms.
The decision was made amid reports the King may have been targeted during further demonstrations planned by protesters to coincide with the visit.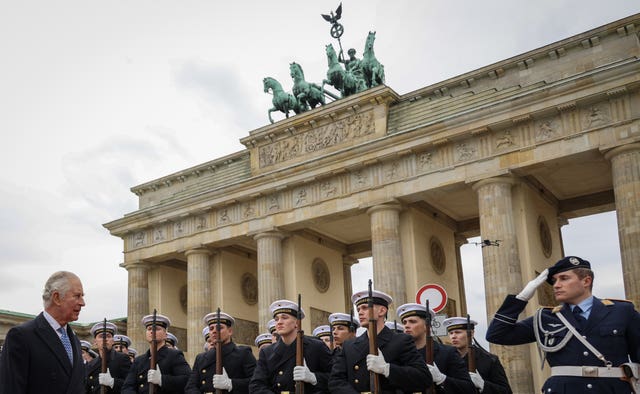 The King inspected a guard of honour, accompanied by the president, then Charles, Camilla, the German statesman and his wife went on a brief walkabout in Pariser Platz meeting people waiting behind nearby crash barriers.
One man took off a paper crown and offered it to the King with a smile and the words "This is for you, if you want it."
Charles shook his head and said "I'm alright", and also turned down another crown from a woman who said "I have a present for you."
Some of the crowds were carrying home-made welcome banners or flowers for the royals, while several ladies were wearing garden party-style hats.
The King shook outstretched hands and when he met a student who said he had recently been to London, Charles said: "Oh marvellous. You found your way around? Oh, you went to Buckingham Palace!"
Another woman shouted: "Welcome to Germany Your Majesty" and the King beamed broadly.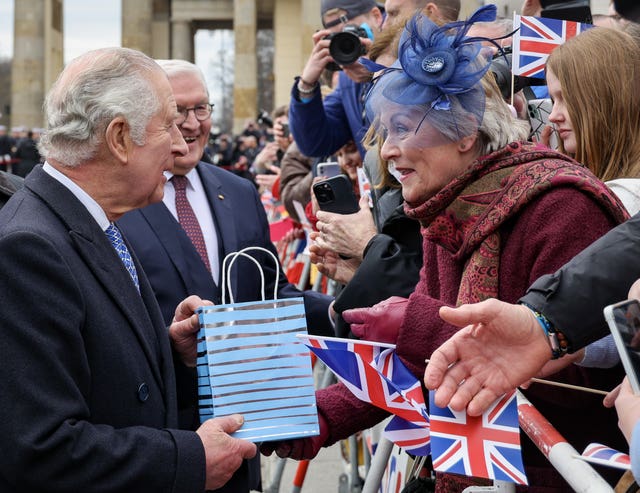 The British youngster, who was being carried by her father at the front of the crowd, told the monarch that she wanted to get a better shot of him.