Steve Barclay has accused the British Medical Association (BMA) of adopting a "political militant stance" in the talks to resolve the junior doctors' dispute.
Junior doctors in England are set to walk out for 96 hours from April 11, after the BMA insisted no "credible offer" was made.
Answering an urgent question on the strikes in the Commons, the Health Secretary said he had checked the minutes of the meeting with junior doctors and spoken to civil servants to confirm that "it was a precondition of the talks" to commit to a 35% pay increase.
He said the Government stands "ready to work constructively" with the BMA, but added: "They have chosen to take a more political militant stance in contrast to the approach that other trade unions have pursued".
The BMA in turn accused Mr Barclay of "quibbling" instead of "getting round the table and negotiating with us".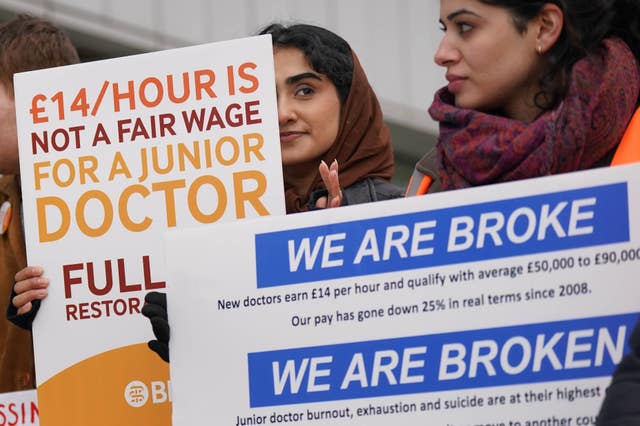 He said: "Patients are worried sick, consultants have written to me to say they are terrified for patient safety.
"They fear that patients will die as a result.
"So when is the Health Secretary going to get junior doctors back in for talks, take them seriously, and stop these catastrophic strikes from wreaking havoc on patient care?"
Mr Streeting also asked Mr Barclay to clarify whether union calls for a 35% pay rise were a pre-condition as he had claimed, or a "starting point for negotiations" as stated by the unions.
The Health Secretary said junior doctors' unions were setting pre-conditions for negotiating, adding: "I have checked the minutes, I have spoken this morning with officials to confirm before I made this statement to the House and it was a precondition of the talks that we were told in terms of the pay erosion at 26.1%, and that that needed to be restored at 35% alongside other things."
Mr Barclay acknowledged the impact of the upcoming strikes will be "far greater" than previous industrial action.
He said: "We know that during the previous walkout by junior doctors earlier this month, 181,000 appointments had to be rescheduled.
"With this four-day walkout the disruption and the risk will be far greater.
"Not only because it lasts longer, but because it coincides with extended public holidays and Ramadan, with knock-on effects on services before and after the strike action itself, and because a significant proportion will already be on planned absence due to the holiday period."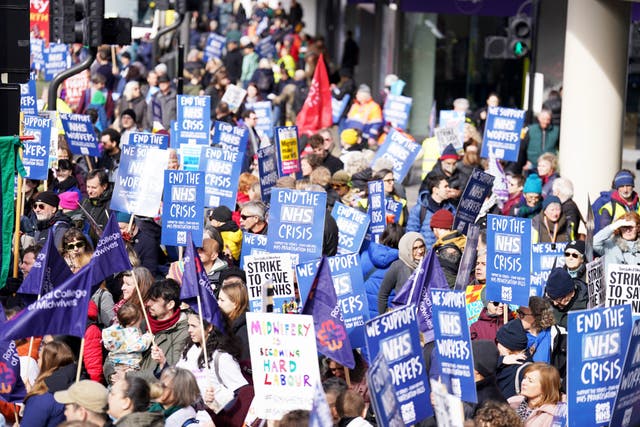 In response to Tory former minister Sir Desmond Swayne who suggested the strikes are damaging to the "respected" junior doctor profession, the Health Secretary said: "I would draw an important distinction between what is a militant group that appear to have taken over the junior doctors committee and the vast majority of junior doctors who do a hugely important job within the NHS.
"And we recognise in Government that they have faced considerable pressures from the pandemic and we stand ready to work constructively with them.
"There is on the other hand, some within particularly the BMA junior doctors' committee, who appear to have a more political agenda and indeed, I refer honourable colleagues to the statements of members of that committee who have said that they want to move the BMA to more traditional trade union activity and pursue a more overt political agenda."
Professor Philip Banfield, BMA chair of council, said: "It is a great shame that the Secretary of State is spending more time quibbling about how we are calling for pay restoration for junior doctors in England than he is actually getting round the table and negotiating with us.
"We have been clear in all our communications with his office that our ask is to achieve full pay restoration for junior doctors in order to reverse the real-terms pay cuts we have suffered since 2008."
He added: "We have not laid down any preconditions to beginning pay negotiations and in particular we have not suggested that a 35% uplift in pay is a precondition to talks with the Health Secretary.
"We remain committed to beginning talks to engage in meaningful discussions about pay restoration, and will do so in the run up to and during strike action. The ball is firmly in Steve Barclay's court."