A father and son were shot dead in two villages six miles apart in what police say were targeted attacks.
Detectives say a custody battle is an "active line of inquiry".
Police were called to reports of gunshots at a property in Meridian Close, Bluntisham, just after 9pm and the body of a 32-year-old man was found inside with a gunshot wound.
At 9.37pm, police got a call from a person in Sutton, near Ely, also reporting hearing gunshots.
Detective chief superintendent Jon Hutchinson, of Cambridgeshire Police, said: "Working with local residents and family members we quite quickly established that the two victims were related and they were father and son."
He said that the "primary line of investigation" was that the incident related to a "familial issue".
"It's been widely reported in the media that this may relate to a custody battle," he said. "I can confirm that is an active line of inquiry for us."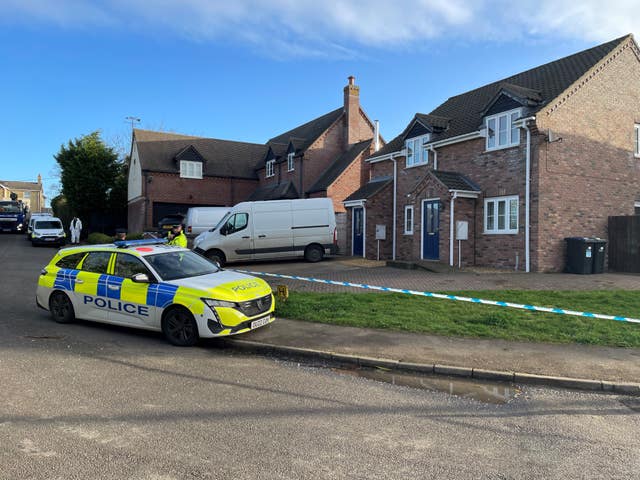 A 66-year-old man was arrested by armed officers on the motorway in the Worcester area in the early hours of Thursday.
"Following his arrest his vehicle was searched and I can confirm we have recovered a firearm," Mr Hutchinson said.
Police are investigating whether the firearm was legally owned.
Neighbours near two semi-detached houses sealed off by murder detectives in Sutton described hearing gunshots on Wednesday night and seeing armed police arrive shortly after.
"I saw the police cars racing down here," he said.
"I thought it was an altercation or something. Then I saw the armed police.
"They were shouting something to the homeowners. That was it."
He added: "My son said he heard some bangs but I don't know if that was the car doors slamming.
"There was a white hatchback which came around and stopped outside, then about half an hour later he came back and lifted up the boot."
Mr Murray said the footage was "a bit fuzzy, it was dark".
Sarah Lown, who also lives nearby, said she heard three loud bangs on Wednesday evening.
"I didn't know it was gunshots at the time," the 38-year-old designer said.
"It was about 9.15pm; I thought it was something blowing over as I heard a bang.
"There are pallets in our garden that I thought could have fallen over.
"I didn't think anything crazy had happened.
"I heard two more – it was bang, space, bang.
"Whether or not they were each gunshots I don't know; then police were outside the house."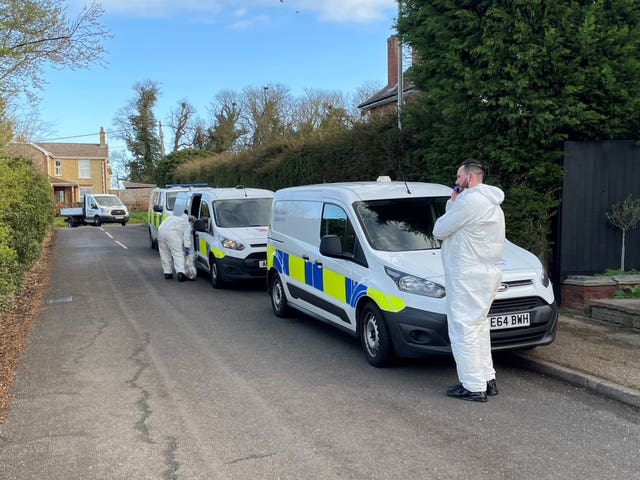 She said a man who lived at one of the properties sealed off by police "always had really fancy cars out the front, souped-up, cool looking cars".
"I don't know if he worked with cars," she said. "I had never met him so I don't know."
Forensic officers in white suits worked at the scene on Thursday morning, with two bunches of flowers left on the drive and uniformed officers and a marked car beside blue-and-white police tape sealing off the homes.
Police said they are not in a position to name either victim because formal identification has not been carried out.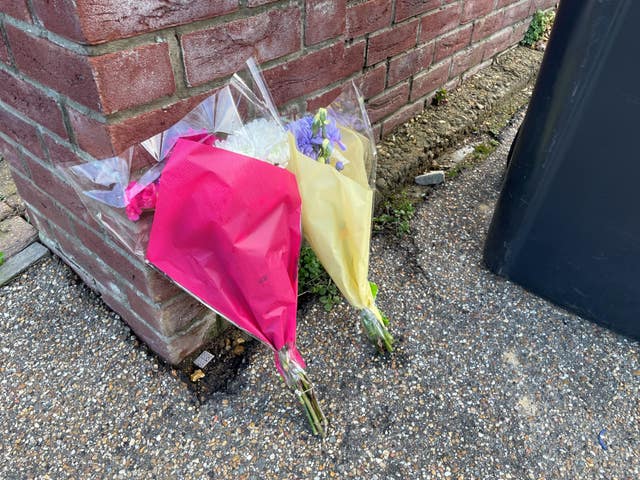 He said officers have been in touch with family and friends of the victims and they are helping the investigation.
Anyone with information is asked to call police on 101, quoting Operation Scan.