The King has celebrated the "special bond" between the UK and Germany as he became the first British monarch to address the Bundestag during his historic state visit to the country.
Speaking in both German and English, Charles said he could "hardly begin to express the pride" he felt in the relationship between the two countries and spoke fondly of his "cherished" family ties to Germany.
He also thanked the country for its kindness following the death of his mother, the late Queen.
"This friendship meant so much to my beloved mother, the late Queen, who often spoke of the 15 official visits she made to Germany, including her five state visits.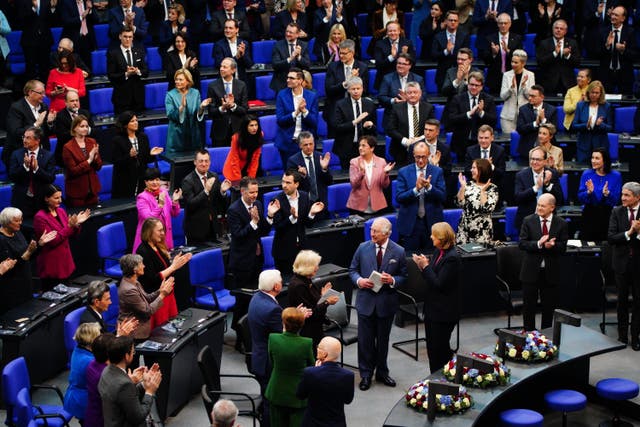 "That my parents' 11-day tour of Germany should prove to be a pivotal moment in the reconciliation between our nations was, therefore, a matter of great personal significance to them both.
"My mother understood the immense achievement that reconciliation represented, and in returning to Germany time and again, she was determined to play her own part. It is, perhaps, for this reason that Her late Majesty won a particular place in the affection of the German people."
With a quip about the Lionesses' victory over Germany at Euro 2022, the monarch hailed it as "just one example of how our countries, together, can offer a compelling example to the world".
"Faced with so many shared challenges, the United Kingdom and Germany are together providing leadership to secure our shared future," he added.
The King also touched on climate change leadership before concluding: "In the long and remarkable story of our two countries, there are many chapters yet unwritten. Let us fill these with the restless pursuit of a better tomorrow. The legacy of our past, and the great promise of our future, demand nothing less."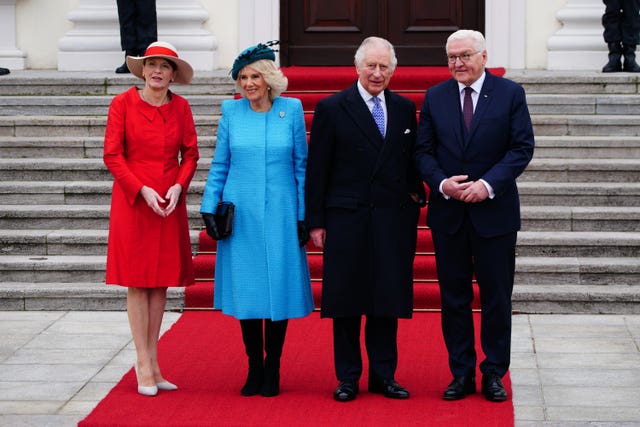 Charles and Camilla will also visit Wittenbergplaztz Food Market and meet a range of local business owners who will discuss the history of the market.
Germany has welcomed more than a million Ukrainian refugees seeking sanctuary after Russia invaded their homeland and Charles will tour the Tegel Refugee Centre to meet some of the group.
Separately the Queen Consort will visit the Refugio House community centre, a meeting place for locals and new Berlin residents, including refugees.