Sir Keir Starmer has insisted that he leads a "united" and "positive" Labour Party, as he joined campaigners in Kent ahead of the local elections.
The Labour leader appeared in good spirits as he met with campaigners and candidates in Medway, but warned party members that the May poll was an "important step on the road to the next general election".
The campaign trail visit came days after the party's National Executive Committee backed a proposal from Sir Keir not to endorse Jeremy Corbyn in contesting Islington North for Labour at the next election.
Mr Corbyn has criticised the move as a "shameful attack on party democracy", with the decision threatening to re-ignite a row with the Labour left.
Even beyond the fate of the former leader, some have accused the party leadership of effectively "purging" left-wing figures and candidates in recent months.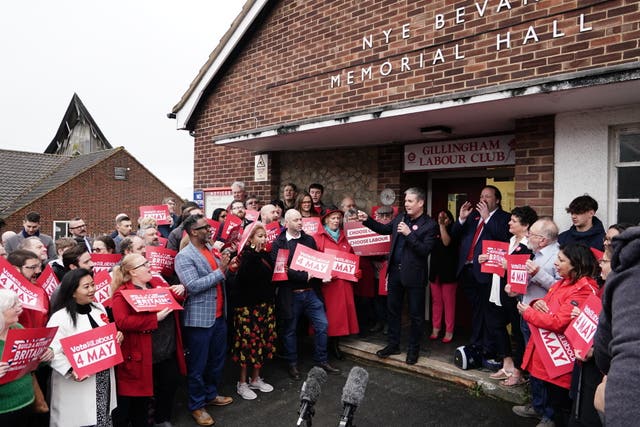 "I say come here to Medway and see the fantastic candidates we have got. This morning I have met all the candidates who are standing in this election. Positive, absolutely waiting to get out there with a real message of change and positivity about the future," he told the PA news agency.
"And that's what the Labour Party is all about. The Labour Party was founded to go into government and make a change for millions of working people and that is what we are doing. There is massive enthusiasm here… This is the Labour Party at its very, very best."
"Look, this is a positive, united Labour Party," he said.
"One thing that unites our members, it is that prospect of being able to go from opposition into power and to actually change millions of lives. That's what we're all in it for. And the buzz and the confidence and the enthusiasm here is palpable.
"And I'm feeling that across the whole of the country."
"I can feel the energy," he told the crowd in a short speech on Saturday morning.
Referencing rising council tax, crime and waiting lists, he told Labour members it was understandable if some voters felt disillusioned on the doorsteps.
"After 13 years of miserable Tory failure, we have to understand that sentiment."
He said that the party needed to show it was "hungry for change" and that the May poll was an "important step on the road to the next general election", expected next year.