The Port of Dover has said it is "deeply frustrated" as coach traffic faces "significant delays".
The port, which has declared a critical incident, said the delays were "due to lengthy French border processes and sheer volume".
Just before 9am, a spokesman for the port said: "Coach waiting time is still several hours, but tourist cars are getting through OK."
P&O Ferries also apologised for the wait times for coaches sailing from Dover, while DFDS said it is expecting a busy weekend and advised passengers to allow extra time to complete border and check-in controls.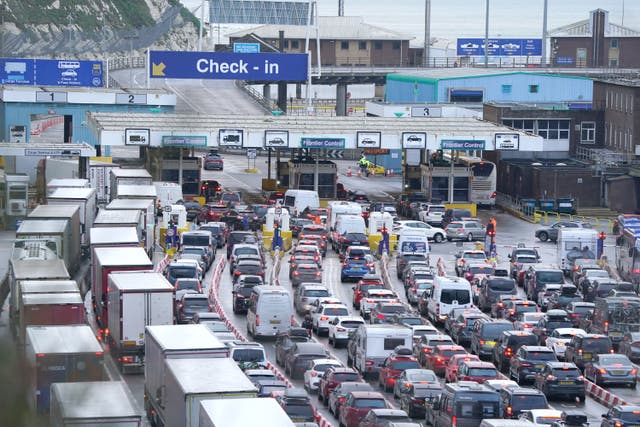 "Whilst freight and car traffic was processed steadily regardless of the additional challenging weather conditions and high seasonal volumes, coach traffic suffered significant delays due to lengthy French border processes and sheer volume.
"Despite considerable pre-planning with our ferry operators, border agency partners and the Kent Resilience Forum, and the success of similar plans for processing substantial numbers of coaches during the most recent half-term period, the additional coach bookings taken by ferry operators for Easter has impacted operations for the port."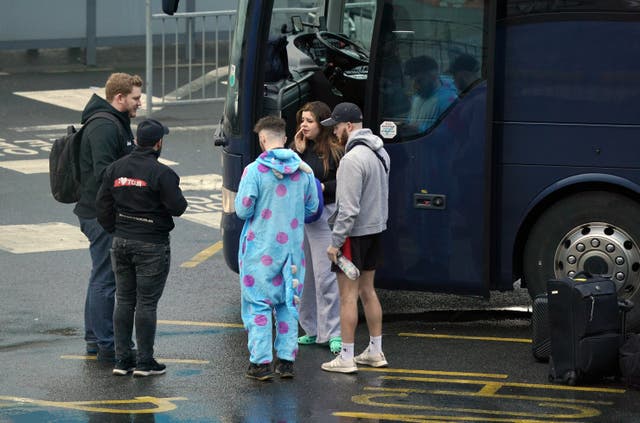 DFDS announced on Twitter just after 9pm on Friday that the wait time for coaches was approximately seven hours from arrival at the port.
One man, part of a group of 19 adults and 14 children who have been stuck in Port of Dover traffic for more than 14 hours, described being "shellshocked" by the wait.
Dafydd Francis, a PE teacher from Seven Sisters, Neath, is one of 33 people travelling from South Wales to Saalbach-Hinterglemm in Austria.
"(I've) never seen anything like this," Mr Francis, 49, told the PA news agency.
"We will arrive at the resort 14 hours late if we are lucky… I have organised various trips since 1998 for school and family and friends, approximately 50 trips. We will fly next time.
"We all feel angry but shellshocked at the situation."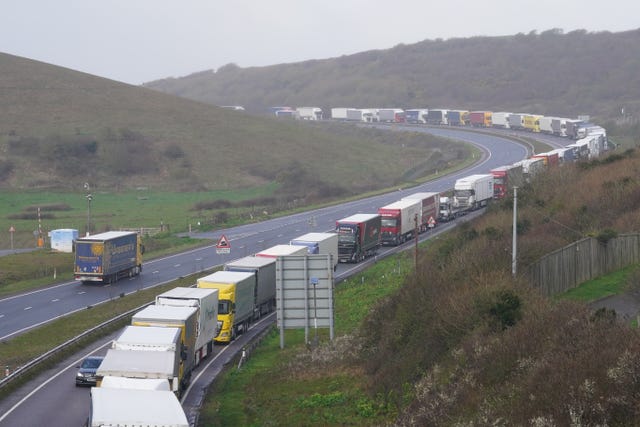 Ms Pearson, 50, is an environmental campaigner from Essex and was travelling to Val d'Isere in the French Alps on an overnight bus.
It was due to arrive at 2.15pm on Saturday, but they will now not make it until 6am on Sunday due to delays in Dover.
"The whole thing was a shambles… Not a single bit of communication," Ms Pearson told the PA news agency.
"It was carnage. The worst thing was that no-one told us anything for the whole 16 hours, literally nothing.
"(We are) very tired but people are resigned now and relieved to be en route… Shocking that something this chaotic can happen. My children's school has a ski trip this week (they are not on it, with us instead) and their bus was turned away last night – they had to sleep at a service station and come back this morning."
Sir Keir Starmer urged the Government to "get a grip" of the situation at Dover.
"I really feel for people trying to get through Dover. There will have been families who have booked holidays and now they are frustrated yet again and I think the nature of the frustration will be 'not again'," he said.
"This is not the first time there have been problems at Dover. The Government needs to get a grip of this.
"You can't have every summer holiday, every Easter holiday, the same old problem. And so the Government needs to get a grip on this and actually help people out in who are just trying to get away for a few days holiday."
A Government spokesman said: "The UK Government remains in close contact with ferry operators, the French authorities, and the Kent Resilience Forum, regarding delays at the Port of Dover.
"The port has advised that it remains busy, but the situation has improved significantly since yesterday, with coaches being processed at a much quicker rate.
"We recommend passengers check the latest advice from their operators before travelling."