The Home Secretary has blamed "political correctness" for authorities failing to tackle grooming gangs, as she pledged to put people working with children in England under a new legal duty to report signs or suspicions of sexual abuse.
The Government is expected to set out on Monday details of a plan to tackle grooming gangs and better protect children, which will include a consultation on introducing a mandatory duty on professionals working with children to report concerns about sexual abuse.
On Sunday, Suella Braverman singled out British Pakistani men over concerns about grooming gangs as she accused authorities of turning a "blind eye" to signs of abuse over fears of being labelled "racist" or "bigoted".
It comes after the Independent Inquiry into Child Sexual Abuse last year described sexual abuse of children as an "epidemic that leaves tens of thousands of victims in its poisonous wake".
The report found that there was currently "a marked absence of a cohesive set of laws and procedures in England and in Wales that require individuals working with children to report child sexual abuse".
The Home Secretary said that the "systematic and institutional failure to safeguard the welfare of children when it comes to sexual abuse" was one of the biggest scandals in British history.
"What's clear is that what we've seen is a practice whereby vulnerable white English girls, sometimes in care, sometimes who are in challenging circumstances, being pursued and raped and drugged and harmed by gangs of British Pakistani men who've worked in child abuse rings or networks," she told the Sophy Ridge On Sunday programme on Sky News.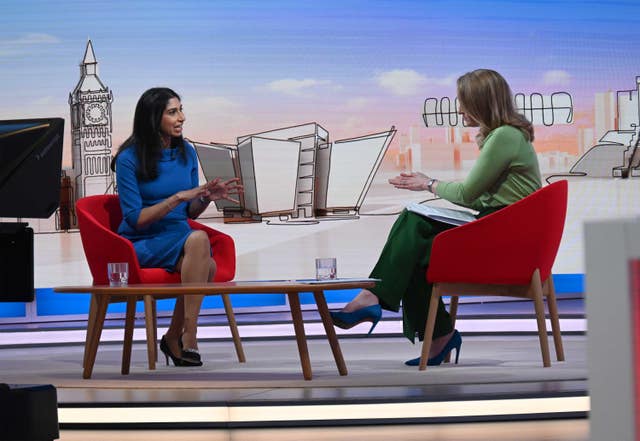 "We've seen institutions and state agencies, whether it's social workers, teachers, the police, turn a blind eye to these signs of abuse out of political correctness, out of fear of being called racists, out of fear of being called bigoted."
The National Society for the Prevention of Cruelty to Children (NSPCC) said the consultation was a "step in the right direction", but called on ministers to do more to tackle child sexual abuse.
Sir Peter Wanless, the charity's chief executive, said the announcement was a "step in the right direction but we urgently need a step change in understanding who is at risk of sexual abuse and an overhaul of support for those already suffering its consequences".
"Mandatory reporting can play an important role in a well-functioning child protection system but it must balance the critical need to shed light on abusive behaviour with sensitivity to the safety and wellbeing of children – including their need for safe, confidential spaces to talk about what is happening in their lives," he said.
Ms Braverman alluded to high-profile cases including in Rotherham and Rochdale that involved groups of men of mainly Pakistani ethnicity.
Ms Braverman told the Sky News programme there was a "predominance of certain ethnic groups – and I say British Pakistani males – who hold cultural values totally at odds with British values, who see women in a demeaned and illegitimate way and pursue an outdated and frankly heinous approach in terms of the way they behave".
"We've got to stamp that out with criminal law and proper safeguarding, and we're only going to do that if as a society we face up to the facts and the truth of what's actually going on."
Later on the BBC, Ms Braverman also accused councillors in Labour-run areas of failing to take action as she hit out at a "failure to act" over "cultural sensitivities".
Some of her remarks were criticised on the same programme by West Yorkshire Mayor Tracy Brabin.
The Labour politician said the "blame game" was not helpful and that "some of the suggestions she was making are already in train".
"This is a Home Secretary that has also made it more difficult for victims of sex trafficking to be protected from those grooming gangs that she was talking about.
"So it does feel like it's very headline, it feels very dog-whistle, if I may say, and it doesn't deal with what is happening on the ground."
The Home Secretary's language was condemned by Robina Qureshi, CEO of refugee charity Positive Action in Housing.
She called on Ms Braverman to apologise for her "gross misrepresentation", describing her language around British Pakistani men as "unacceptable".