The total number of migrants who crossed the Channel to the UK in the first three months of this year was 17% below the figure for the same period in 2022.
PA news agency analysis of Government figures shows 3,793 migrants made the journey from France by the end of March 2023, compared with 4,548 in the first quarter of last year.
Last month 840 people arrived on the south coast after crossing the Channel – just over a quarter of the 3,066 recorded in March 2022 – and only slightly higher than the figure for March 2021 (831).
Amid changeable weather conditions at sea, no crossings have been recorded since March 29.
It comes as the Home Secretary faced more questions about when flights sending migrants to Rwanda could take off.
Suella Braverman appeared to downplay suggestions the stalled policy of deporting asylum seekers could begin this summer.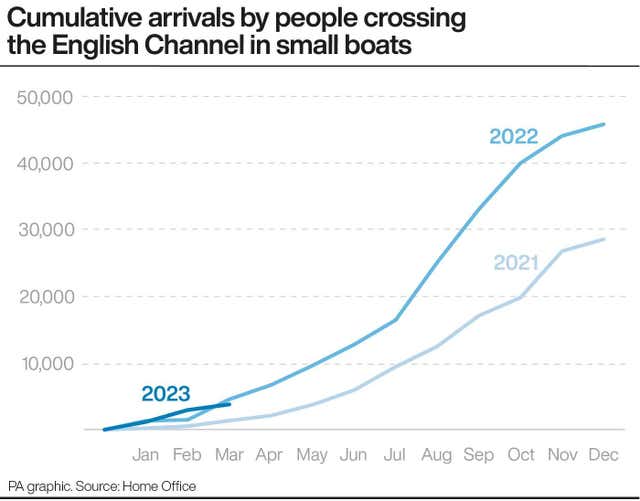 As she toured broadcasting studios at the weekend she also insisted ministers were looking at "all sorts of land and sites and vessels" to house asylum seekers in the UK, but refused to say whether the Government was close to signing a deal on a procuring a barge.
Prime Minister Rishi Sunak and Ms Braverman have said that "stopping the boats" across the Channel is a crucial priority, but campaigners have condemned much of the Government's response, with the latest proposed legislation – the Illegal Migration Bill – described as an effective "asylum ban".
Meanwhile, ministers prompted a further outcry from critics last week as they unveiled plans to house asylum seekers in disused military bases to accommodate their "essential living needs and nothing more", with ferries and barges also being explored as options.